Gel nail polish gained its place under the sun long ago, due to its super-durability and bright color without chipping. Sometimes, nails exfoliate and become brittle after a persistent manicure. How to repair nails after shellac?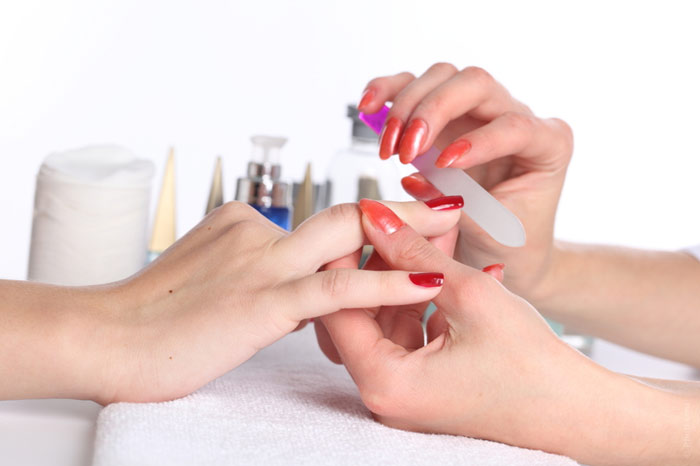 1. Olive oil
After removing shellac, nails are most often polished and thereby become thin and vulnerable. Olive oil can help restore and strengthen your nails. Warm it to a comfortable temperature in a microwave or in a water bath, dip your fingers into the oil and keep them there for at least 10 minutes. Repeat the procedure every evening, for at least one week – the result will not take long to appear.
2. Healthy eating
Learn to take the phrase "we are what we eat" seriously. In order for the nails to stop exfoliating and become strong, you need proper nutrition. Eat foods rich in protein, minerals, vitamins A, C, E and D. This will normalize the balance of nutrients and give the body the necessary minerals.
3. Lemon juice
To restore the nails, rub lemon juice into the nail plate and leave for 2-3 minutes, then rinse with water. Vitamin C, which is contained in the juice, will quickly return the nails a well-groomed look, and essential oils will make them stronger.
4. Berry mask
One of the most popular ways to restore nails after shellac is a berry mask. The main rule: berries must be sour. Cranberry, cowberry, or red currants are perfect for this. Grind a handful of berries until smooth, then apply the resulting mixture onto the nail plate, wrap in a plastic food wrap and leave for 15 minutes, then just rinse with water. It will be quite enough to enrich the dehydrated nails with useful fruit acids and nourish them with trace elements.
5. Iodine
An iodine grid may help to restore damaged nails quickly. This simple method will be a pleasant surprise to you, and you will not have to wait long for the result. Before bedtime, apply small amount of iodine to each nail plate with a cotton swab. In the morning, the yellowness will "come off", and the nails will become stronger and more durable.
6. Nail sealing
In addition to home methods, there are salon treatments to restore nails after shellac. One of the methods is nail sealing. Such a service is offered by almost all beauty salons. It means rubbing a special mixture of honey and beeswax into the nail plate. After the nail sealing procedure, nails form a thin film that prevents damage, reduces nail brittleness, and gives them a healthy radiant look
7. Sea salt
You can use a sea salt bath to make your nails stronger and prevent exfoliation and brittleness. Dissolve 1 tablespoon of salt in a little water – you may also add essential oils – and lower your fingertips into the resulting composition for 10 minutes. In conclusion, do not forget to apply a nourishing cream on your hands. Experts advise to do these procedures not more than 2 to 3 times a week.
8. Paraffin bath
Paraffin bath is also a popular procedure in beauty salons. You can use it to eliminate peeling and micro cracks, nourish nails with beneficial trace elements, as well as slow hand skin aging. Paraffin sessions usually last for 20-25 minutes, and the effect is retained permanently.
9. Special coatings
If nails exfoliate or break after shellac, the easiest way to restore them is to apply special restoring coatings daily. Before you buy them, read the composition carefully: the product should contain calcium, vitamins, fiber, silk, minerals, which can strengthen nails, reduce their fragility and give a healthy well-groomed look in a short time.
10. Cuticle oil
Cuticle oil will make your nails healthy and protect against moisture loss. If such a simple ritual becomes your habit, you can easily forget about hangnails and nail dullness.