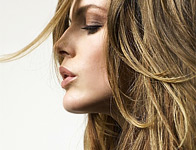 What could be worse for our hairstyle than piercing cold wind, heavy rain or this terrible wet snow? Actually, now as winter's now, we have to face these weather challenges every day. You can win your battle with bad weather if you are equipped with right weapons. Follow these easy styling tips to make sure your hairstyle won't become undone as you get over to the office.
Keep the Volume
It's important to keep hairstyle volume. In fact, it's that difficult as it seems. You'll need the same hair styling products you use in warm seasons.
Dry Hair Roots
It's crucial to dry hair roots. That's what makes your hairstyle stay in place longer. Hair stylists advise you to dry your hair with a hair dryer directing air flow from roots and upwards, slightly stretching strands out with a brush or diffuser attachment. This simple technique will create natural volume and bounce.
Hairstyling Products Use
Never overuse styling products. For some reason, many of us think more styling foam means a longer-lasting hold. This is not true. Under the weight of styling products hair loses its volume even faster.
How Much Mousse Is Enough?
Oil secretion of the scalp increases as the cold season coming. So you should use even less styling products than in summer. The right quantity of hairstyling mousse is about the size of chicken egg. That much is enough even if your hair extends to shoulder length. For longer hair, take twice as much.
Winter Tips for Thin Hair
If you have thin hair, substitute mousse for hair lotion (preferably from a professional line, Wella for example, this lotion doesn't weigh down the hairstyle and is easy to remove by brushing)
If you use hair-curls, apply hair spray to them. Your curls will "fix" faster.
Wearing a Hat and Hairstyle
If you wear hats or kerchiefs, you need a backcombing. Before putting on any headgear, comb your hair towards the root and apply a bit of hair spray. As a result, your hair volume will stay in place even after wearing a hat for two hours.
Source of the image: my.allwomenstalk.com.