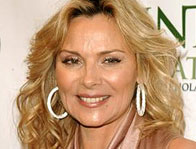 Natural hair color of a famous actress Kim Cattrall is dark. In her early adulthood, she had a great head of hair, but it got thinned out with age. But Kim is trying to wear hairstyles that make thin hair look as voluminous as possible. How to make thin hair look as dramatic as Kim's?
Length and Shape
The length of thin hair should not extend below shoulders. Longer hair doesn't receive enough nutrients, which makes it even thinner and more brittle. The following hairstyles are best for thin hair. Middle neck length or shoulder-length feathercut; short choppy cut; short bob.
Hair Dyeing
Unlike dark colors, lighter dyes make hair look fuller. With thin hair, avoid using only one color to dye your hair with, or your hairstyle will appear "flatter". Choose 2-3 shades combining lighter and darker hues to make hair visually more voluminous.
Aggressive ways of coloring damages your hair, making it even thinner. You need more hair-friendly ways such as the combination of highlighting and toning.
Hair Styling Products
Use volume building styling products –mousses, sprays and the like. Remember that gels, waxes and creams weigh hair down and take away from hairstyle volume. Always apply styling products to the roots, not to the ends. It's at the roots where the volume is built. When blowing hair dry, bend your head down and direct air flow towards the roots to create more volume in your hairstyle.
How to Create Curly Hair
Here is how to create airy curls on wavy hair. Wash hair, pat is slightly dry with a towel and apply curly hair mousse. Then wind hair around your fingers, pressing it slightly. Now blow hair dry, directing air flow against the roots. Keep winding and pressing your looks while drying. When your hair is almost dry, apply volume building hair spray to the roots and dry hair with a hair dryer for additional half a minute.
Curly Hair Tips and Hints
You can build volume in your straight hair using medium round brush. Apply hair mousse to wet hair and blow it dry winding locks round the brush. Finally, spray your hair with a gloss spray for more voluminous look.
Gelatin is a known and reliable thing to increase hair volume and keep it in place. Add a tablespoon of powdered gelatin into shampoo and wash your hair with the mixture.