With every day that passes, summer is getting closer. The time of sandals and other 'open' shoes is coming. In this regard, women should think about how to decorate their feet with a new pedicure.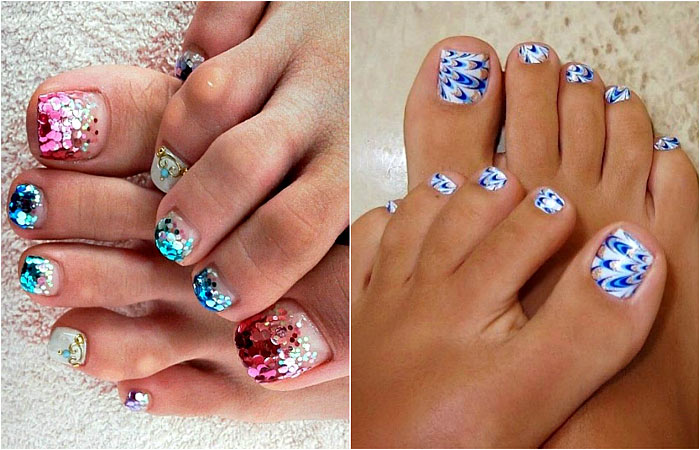 1. Negative space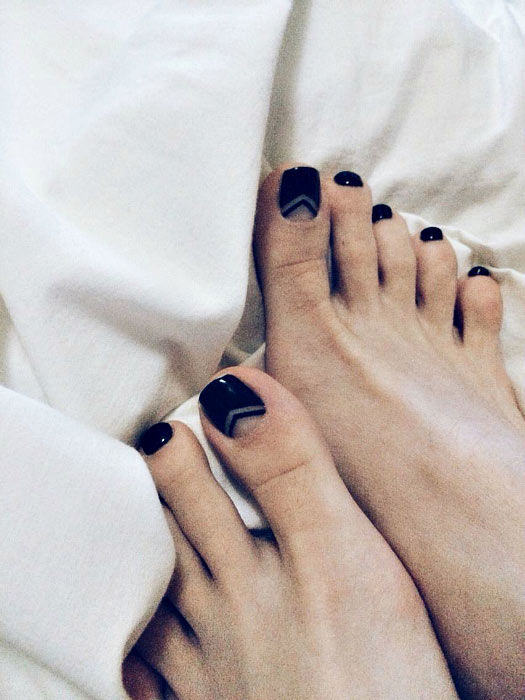 One of the most popular destinations in nail art is the nail design with negative space. This pedicure is rather discreet and will fit any image and situation.
2. Colorful nail art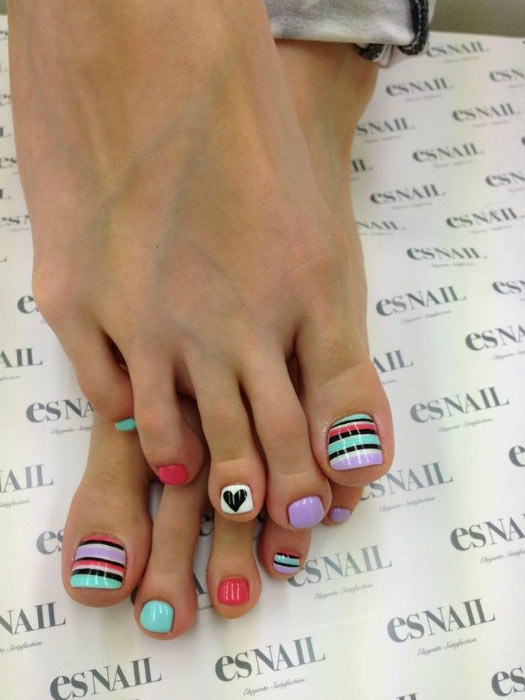 Colored stripes, small hearts, bright colors are everything you need for a summer pedicure.
3. Pastel colors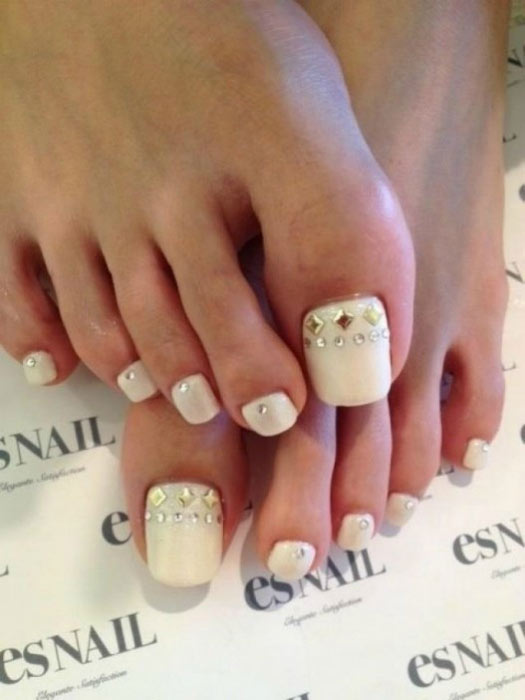 Pastel shades have remained popular for several seasons in a row. This pedicure looks very gentle and feminine on women's feet.
4. Décor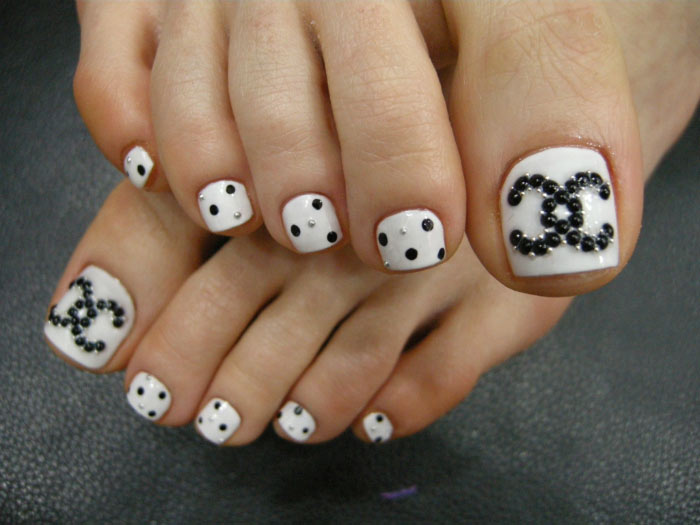 Pictures with rhinestones on your toe nails are the main trend this summer.
5. Simple drawings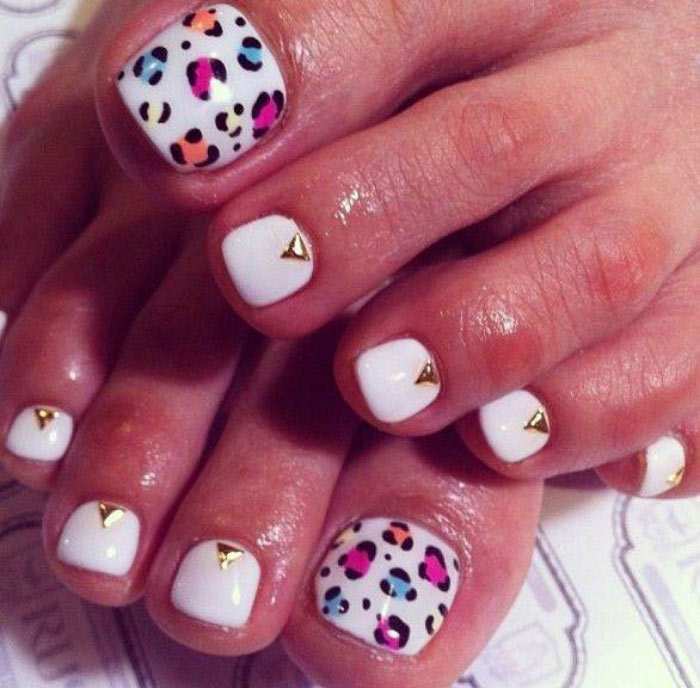 A neat pedicure with a simple pattern, which anyone can do for herself.
6. Abstract patterns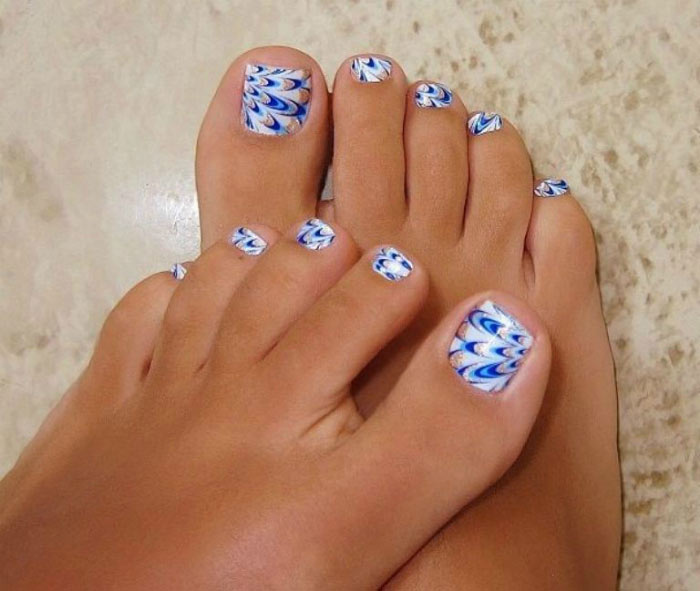 A beautiful nail art in blue and white colors is perfect for summer holidays.
7. Colors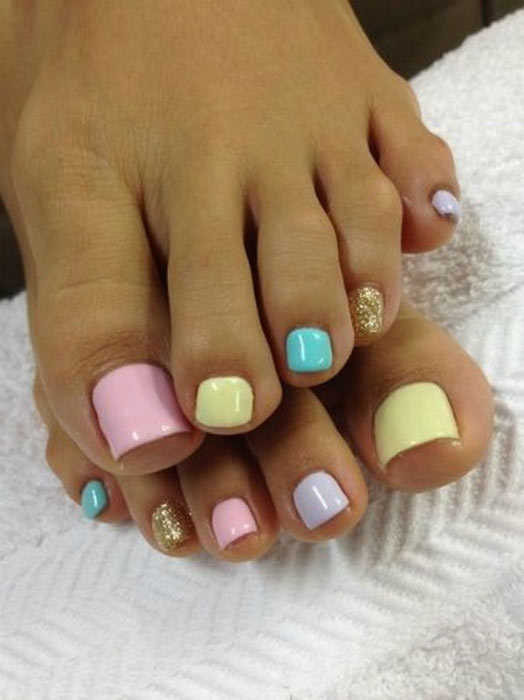 A simple idea for a bright pedicure is to paint each toe nail in a separate color. This design is extremely topical this year, quite versatile and equally suitable for any outfit or shoes.
8. Metallic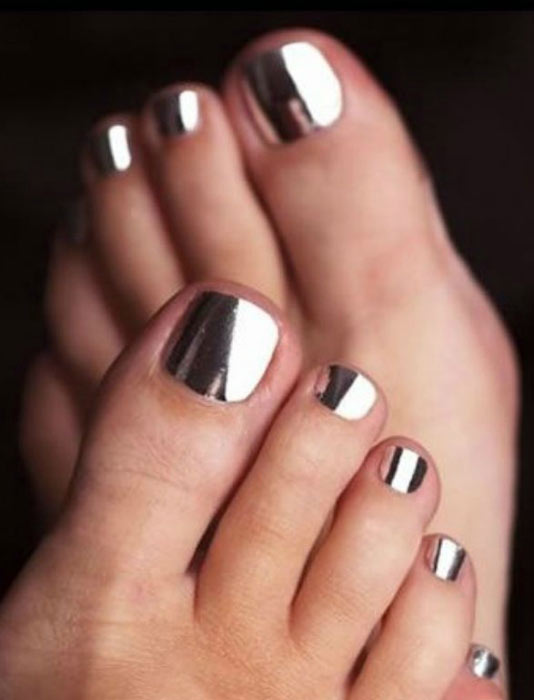 Metallic pedicure colors are another fashion trend this season. It is not difficult to apply them with a special foil and transparent nail polish.
9. Stones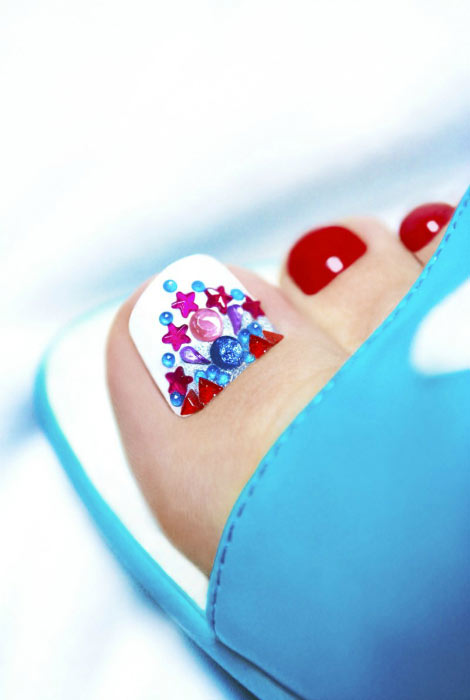 Colored stones and crystals in nail design are a major fashion trend this season. With the help of colored stones, you can create a bright and unique pedicure.
10. Oriental style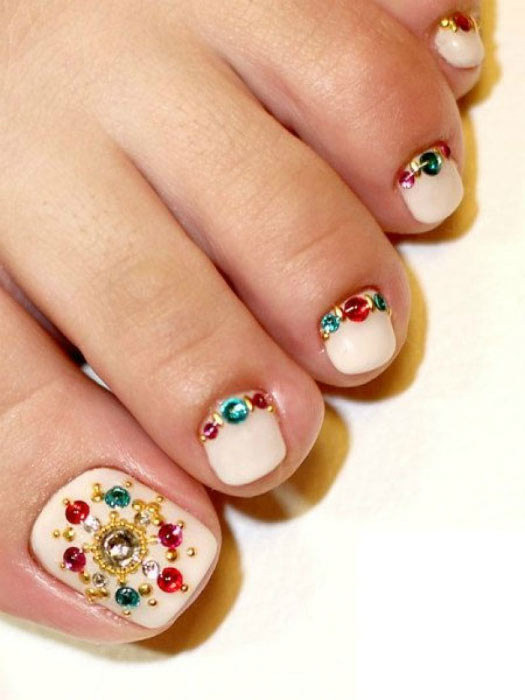 Beautiful patterns of crystals look great in combination with nail polishes of neutral colors.
11. Points and lines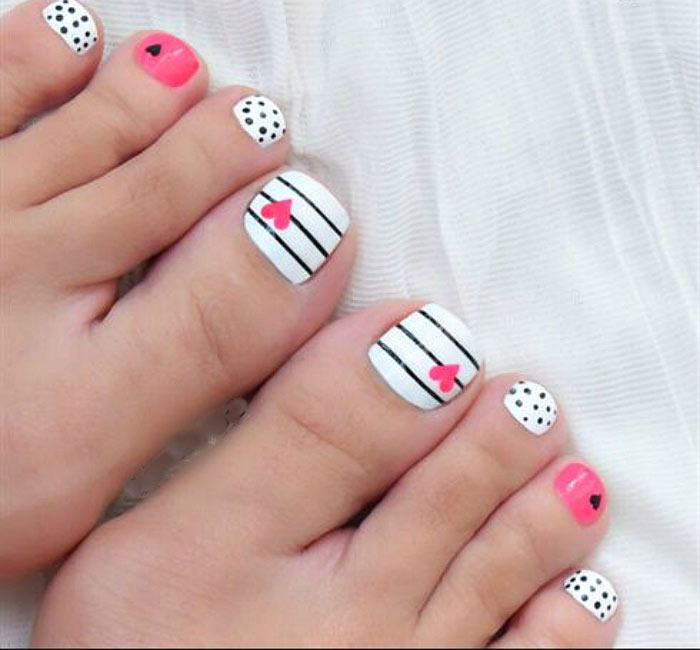 Neat thin lines and points will help decorate monochrome nail covers. This pedicure looks very playful and feminine, and every woman can do it herself.
12. Favorite characters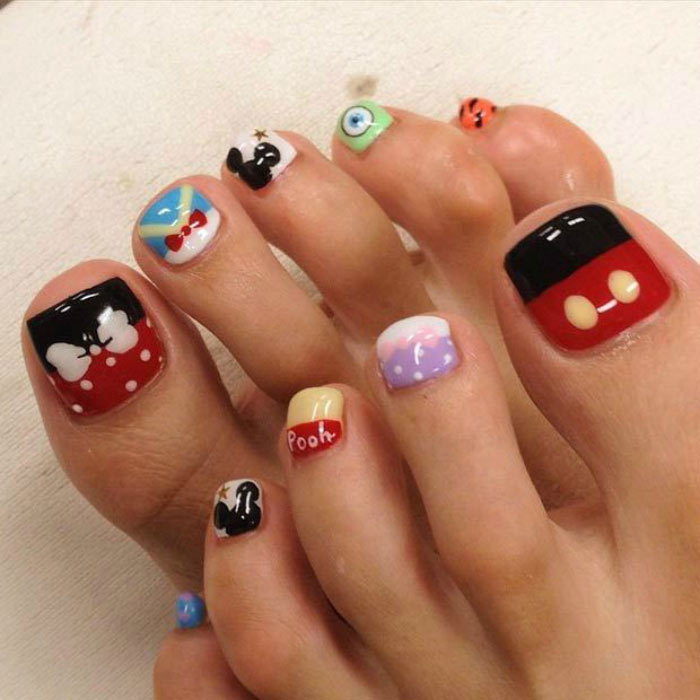 The most fashionable and daring ladies can easily decorate their toe nails with the images of their favorite characters. This pedicure looks very original, bright and youthful.
13. Zigzags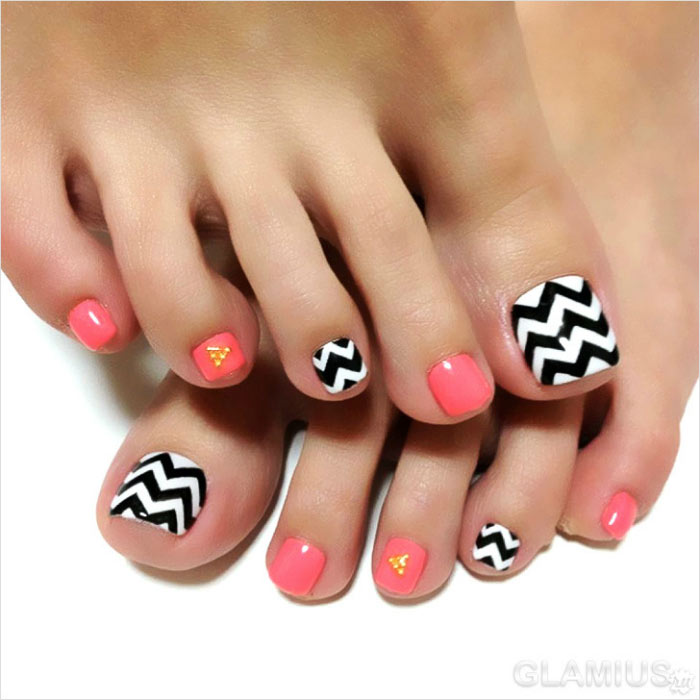 Some nails with black zigzags against a white background look very impressive in combination with other nails, covered with a monochrome nail polish.
14. Single-color coating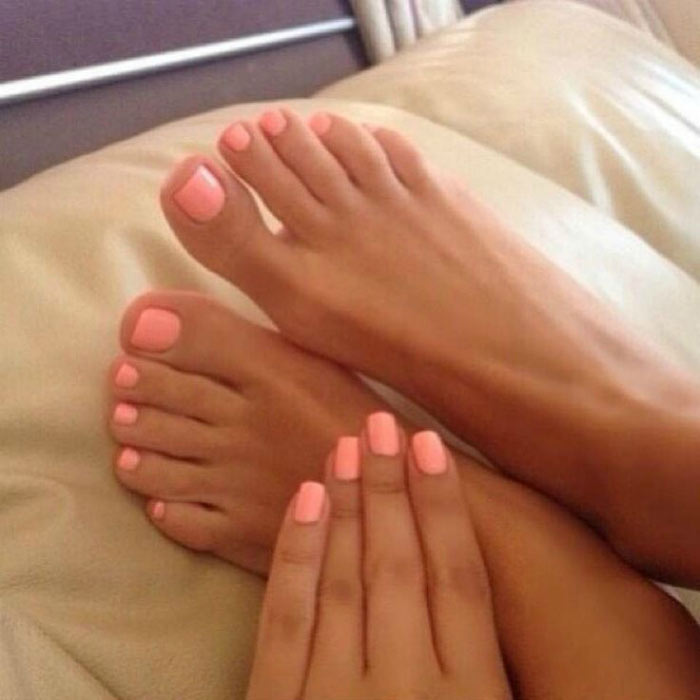 Fans of classical nail design are advised the same nail polish in pastel colors for both hands and feet.
15. French pedicure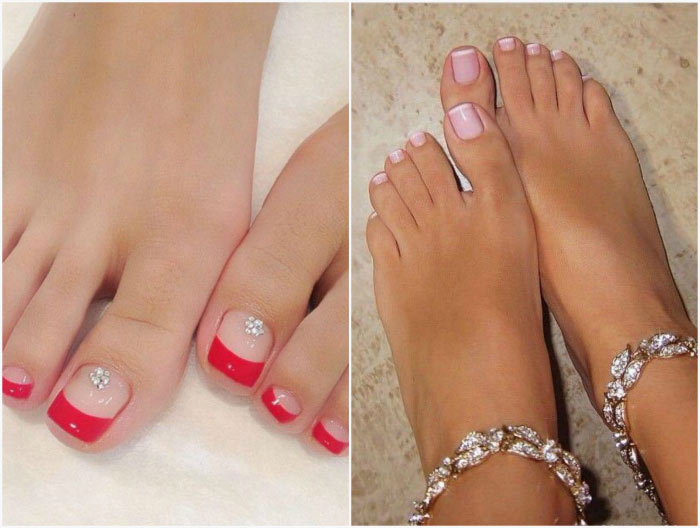 French pedicure perfectly accentuates beautiful and well-groomed female nails. To create such a design, pastel and bright colors are suitable.
16. Sequins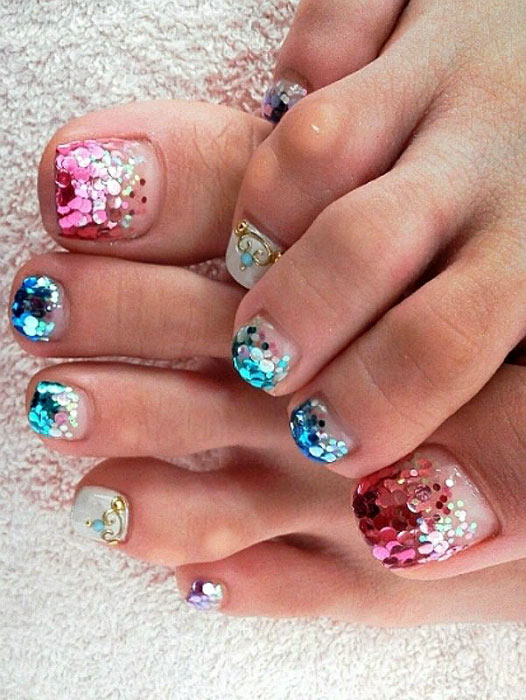 Gradient pedicure with sequins looks very bright and spectacular.
17. Ombre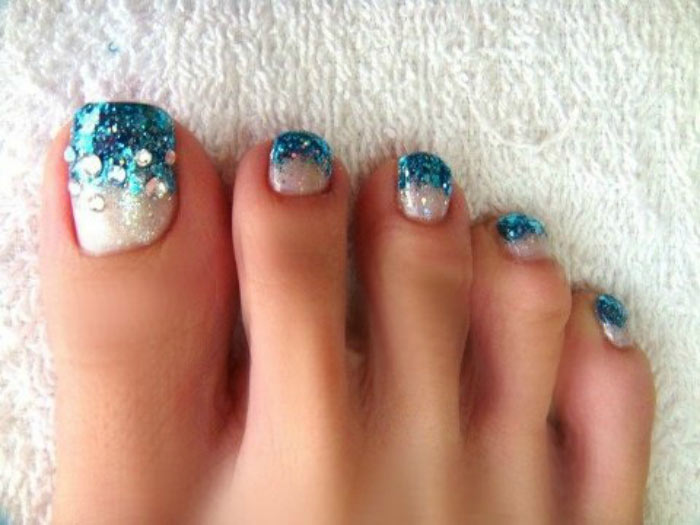 Deep gradient consisting of two shiny surfaces is what you need for a stylish summer pedicure.