For some time already Kirstie Alley, throwing her freshly toned-down body about Europe with a "mystery man" in tow, has been punching out teasing tweetings for her fans. And, remembering her statements to PEOPLE of late, where she said that she was on a love quest and nothing else would do ("I want someone who has my back"!), speculations run wild whether her travel companion is the one who captured her emotions.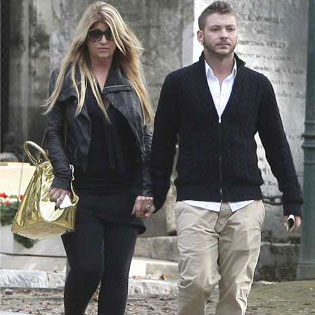 Well, the mystery man has his mask off now – he's Maksim Chmerkovskiy's dancing student Serge Onik, a one-time contestant on So You Think You Can Dance. Allegedly Alley, 60, came to know him through Chmerkovskiy, her last season pro partner on Dancing with the Stars.
Still, it is not quite clear whether the two are united by common interests or by a romantic flame? Does Alley herself know it? Meanwhile she takes pleasure in leading her Twitter followers on with phrases like "Cougar Maximus, or just friends?" when informing on Thursday that they were moving on to Rome from Paris (where she and Onik visited Jim Morrison's burial place at the Pere Lachaise Cemetery, among other places).
Onik also writes on his Twitter page about one more "crazy ass road show" with Alley, admitting that he is her mystery companion.
Is it a journey of love or a nice holiday? Make your guess.
Source of the image: Pynkcelebrity.