Weston Cage may end up married three times, just like his father Nicolas Cage before him. At least it looks like he's coming through phase one pretty fast.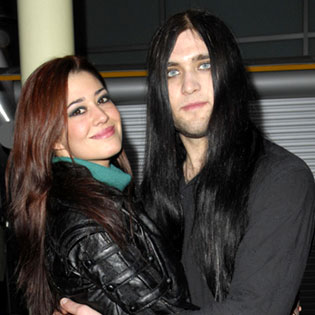 Weston Cage, 20, has been married to Nikki Williams, 22, since April, but the marriage is already disintegrating. It is going to be a story of arguments, violence, and pregnancy, and not a very long one at that, for the young husband is considering divorce.
TMZ publicized Cage's Facebook post made on Wednesday that deals rather obliquely with the case of domestic violence that the couple had gotten booked on during the weekend when Williams allegedly tried to hit her hubby with a bottle. Cage wrote that he would never mishandle her, more so after her pregnancy test showed positive. But what he is likely to do is divorce her. He rounded off the post with a cryptic "have fun killing my child, Breyan Prescott."
Back in April Weston Cage, who sings in the band the Eyes of Noctum, said to Us Weekly that he meant "to set an example to others and my dad"… Two months later it's "I don't know if being in your husband is in the stars anymore for me." Though, Cage adds, he's still in love with Williams.
If Weston divorces it will bear some resemblance to Nicolas Cage's second marriage to Lisa Marie Presley in 2002 that lasted a little over three months. The actor's first marriage was to Patricia Arquette whom he divorced in 2001 after living together for 7 years. His third, and supposedly the best, marriage is to former L.A. cocktail waitress Alice Kim with whom he had a scandalous brawl that ended in an arrest in the same month when his son was having his nuptials.
A month ago the family violence ruled again when the young Cage had gotten engaged in a fray with his father's assistant Kevin Villegas who was allegedly on the errand of looking for him. Claiming to act as a bodyguard for his wife, the singer, upon getting out of rehab, closed with Villegas.
Source of the image: Okmagazine.