There was a time when divorce was staring the illustrious (and beautiful!) couple in the faces. Tiger's wife Elin tried not to come too near him and even avoided his eyes. She rented a house in the neighborhood to stay away. The disintegration of their relationship was well under way. Now, in March, they can be seen hugging and kissing happily, in the full view of everyone who cares to see!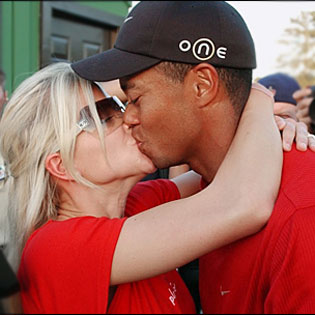 This is what Tiger wanted when he enrolled for therapy at Gentle Path in Hattiesburg, Mississippi, where he stayed for a month and half, with Elin coming over to see him.
Trusted sources close to the couple assure RadarOnline that Elin has not been so keen to divorce Tiger, feeling the bond of their having mutual children… and sharing love that wasn't dead yet.
Was Tiger, supported by his therapy, able to rekindle it? It certainly seems he was. As people in their Orlando neighborhood are beginning to notice.
On Monday they were observed kissing for the first time in several months. Meeting Tiger after her tennis, Elin walked arm-in-arm with her husband which ended with their embracing and kissing.
"Elin is certainly a lot more relaxed these days and so is he," an eyewitness remarks. "They've come a long, long way."
RadarOnline also reports that Elin intends to move back to their marriage home. It has not happened yet, but for the time being they spend more and more time together with each passing day.
"There's no question the divorce has been called off now," as we hear from a source who's in a position to know. "He's winning her back."
Source of the image: Komonews.com.