While the mass media are chewing away on stories of Tiger Woods' in-marriage and out-of-marriage relations, manufacturers are ever on the look-out for their meat, or its protection, as in this case.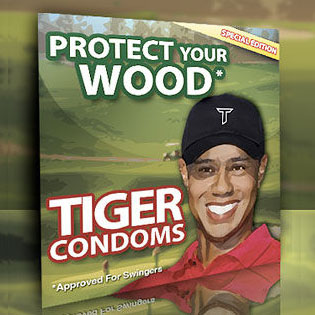 Rumors of the famous PGA champion's inclination to shun safe sex techniques may be responsible for this bit of joke on the part of the Vertú Group that can sell well. The golf legend may be moving into a sex legend category with the new Tiger Condom to "Protect Your Wood", with the package showing a smiling man looking very much like someone you know. Moreover, the new condom is expressly stated as "approved for swingers"!
So now everyone can try it in NOT the Tiger Woods fashion for $3.95 with him watching from the package.
Source of the image: Celebuzz.com.