Strange though it may seem, even Sofia Vergara used to complain about her looks.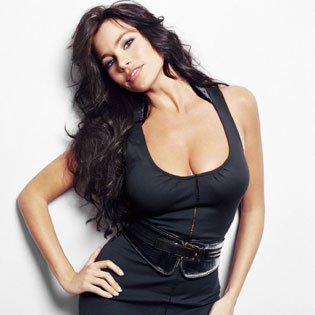 The October issue of Self (as JustJared informs us) carries her story of coming to terms with her appearance. As soon as Vergara's breasts began to grow at 13, she started to dislike them so much she wanted to have surgery. She turned to her mom with a request to help her get rid of her boobs as soon as she grew older. Even now, being a 34DD, she shares she finds it difficult to dress. "No matter what I wear, I look like a stripper," the actress complains.
At 13, mother told her that when she was 18, she would change her mind. At 38 the model-turned-actress admits, albeit somewhat grudgingly, that "I'm grateful I have them". She likes that sexy feeling they gave her, and the boost they give to her career.
The next issue was her hair, that was natural blonde – leaving the people she was dealing with wondering why this Latin girl with an accent and curves doesn't look a Salma Hayek part.
As soon as Vergara changed the color of her hair to a more expected "hot Latin" dark, she fell into the picture instantly – and came to like it, too. "I'd always felt a little 'too much' as a blonde," she says, confessing to feeling more comfortable as a brunette.
Source of the image: Wallpaperez.