According to RadarOnline, Selma Blair's latest photos evidence her drastic state after losing her love.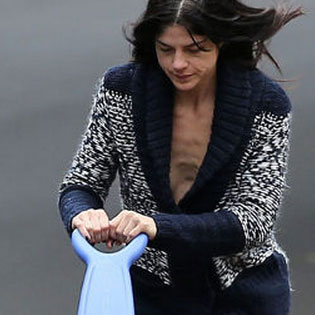 Snapped as she stepped out of her home with her son Arthur at the wheel of a toy car, in a wooly cardigan which may have hid the absence of a bra, she certainly bears little resemblance to what she used to be and leads one to think along the lines of a noticeable weight loss. Her ribs stand out of her chest and her general looks speak of something close to emaciation.
What the Dairy of Anne Frank artist is suffering from may be the "break-up diet" or her recent rupture with her two-year-long boyfriend and Arthur's father Jason Bleick.
The 40-year-old star and Bleick, a 42-year-old fashion designer, decided to call it a day about three months ago after what is reported to be an unceasing fighting spell. They are said to be keeping up a nice façade on things for Arthur's sake, though.
Now that she is a working single parent, Blair suddenly displays symptoms of stress and malnutrition that may set her off on the precarious path trod by Demi Moore after her 2011 break-up from Ashton Kutcher.