Rihanna and Chris Brown separated after a tumultuous relationship that included the notorious beating up case back in 2009 that prevented Rihanna from appearing at the Grammy Awards show. Can it be that they will drift back together? Maybe the signs are a bit too obvious?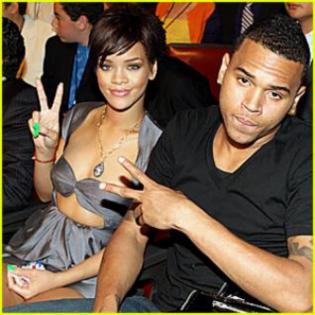 For her birthday on Monday (her 24th) Rihanna released her Birthday Cake (the 4th single from her 6th album Talk That Talk) in a longer version with new explicit verses written by Brown!
The 23-year-old singer whose violent behavior affected his career begs on the remix to "turn the lights down" for he has come for "a private party". Brown sings out "Been a long time I been missing your body" and is clear about his lewd intentions.
Brown's Twitter page also has a link to a new version of his Turn up the Music where he used some music by Rihanna; later that song was also tweeted by the You Da One singer.
This exchange happened in spite of the fact that Brown is dating Karrueche Tran, a rising model; Us Weekly also reports that several sources maintain that Rihanna and Brown were having secret trysts all through 2011.
Chris Brown is a part of Rihanna's preference for dangerous living, a friend of Rihanna's explained.
Brown is on five years' probation after he pleaded guilty of the 2009 assault.