Olympic runner Oscar Pistorius was charged with the murder of his girlfriend last week. Not waiting for the court decision, the Thierry Mugler fashion house decided to remove the famous Paralympic from their advertising.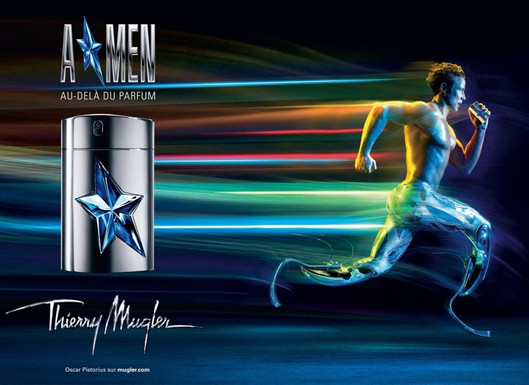 Since 2011, Oscar had been the face of A * Men fragrance by Thierry Mugler, until in 2013 the brand decided to terminate the cooperation. WWD released an official statement on behalf of the brand's owners saying that out of compassion and respect for the families involved in this tragedy, Thierry Mugler Perfumes had decided to stop their advertising campaign with Oscar Pistorius.
An advertising poster of the Thierry Mugler fragrance with the infamous athlete
This is not the first advertising contract, which the athlete lost because of the charge of murder: earlier on Monday, Nike had suspended its cooperation with the athlete, and then Oakley had announced their having no further plans of collaboration with Oscar Pistorius.
According to preliminary estimates, the Paralympic athlete has already lost about $2 million due to the termination of advertising contracts with him.