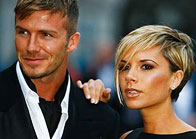 Police announced that theft charges against Eric and June Emmett, who have worked at the Beckhams' home in Britain for the past ten years, were withdrawn. The couple was arrested in October along with their 25-year-old son after the celebrity couple found out that a number of their home items were being sold on eBay.
David and Victoria Beckham were in the US at the moment they learned those news, but made sure to take immediate action. Police arrested the couple, who were taking care of the house, for suspicion of stealing. 56-year-old June, who denies theft, said that she would never cause trouble for this family. The Beckhams' representative announced that further measures will not be taken at this stage and that the celebrities are grateful that they got back the items.
Photo of David and Victoria Beckham: theage.com.au.