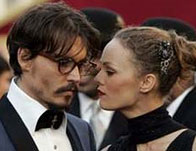 It is rumored that Johnny Depp, The Pirates of the Caribbean star, bought an engagement ring for Vanessa Paradis, the woman with whom he has been living for the past ten years. Johnny asked a luxury Californian jewelry store to close its doors to public for a while so that Depp could pick the ring fro Vanessa in privacy. It was Depp's third or fourth visit to the store.
He looked over the offered selection of classic diamond rings with platinum bases(the store offered absolutely beautiful and elegant rings) and finally made the purchase.
Earlier Johnny, who has two kids, Lily Rose and Jack, with Vanessa, confidently claimed having no intentions to get married in the future. Depp reasoned that he does not need a piece of paper that would state that he belongs to her and she in turn belongs to him.
Photo of Vanessa Paradis and Johnny Depp: ruggedelegantliving.com.