After more than ten years Monica's victory claim The Boy Is Mine comes true as she gets the man of her dreams to give her an engagement ring!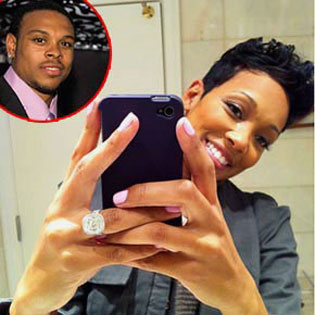 The capture was triggered off by her another tell-tale song, Love All Over Me, whose video brought together the singer, 29, and L.A. Laker's guard Shannon Brown, 24. From a love affair for the video they proceeded to the real thing… And now, as UsMagazine reports, the couple is engaged.
Following in the wake of his fellow Laker, Lamar Odom, who wooed Khloe Kardashian into marriage in a single month, Brown didn't wait long before deciding that he has a ring for Monica.
Last weekend the singer was on Twitter demonstrating her large engagement ring and sharing with her fans, telling that in spite of whatever other opinions may be, "we know who we are".
Monica also voiced her assurance that her true fans are happy for her, knowing that she is "realistic enough about life", and thanked them for their support.
Hopefully from now on things will be fine for the Everything to Me singer whose emotional life was darkened by the suicide of her first boyfriend (who shot himself dead in her presence) and the incarceration of her former fiancé Corey "C-Murder" Miller who is charged with murder.
Monica has two children by her long-time boyfriend, rapper Rodney "Rocko" Hill: Rodney Ramone Hill III, 5, and Romelo Montez, born 2008.
Source of the image: Twitter.