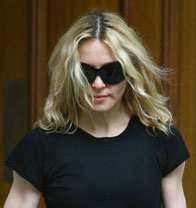 Almost divorced Madonna and baseball player Alex Rodriguez, who recently split up with his wife, are playing little detective game. NY Post reported that the two had a secret date in a Hempton mansion, which belongs to the actor, producer, and director Jerry Seinfeld, Madonna's old friend. Jerry himself actively helped the two organize this date. Madonna and Alex arrived separately to Hempton on two private helicopters. They spent a few hours together. Probably were discussing Kabbalah.
The newspaper's sources report that Rodriguez's helicopter arrived at the eastern side of Hempton and then Alex was delivered to Seinfeld's mansion on Porsche 911, the vehicle was very similar to Jessica Seinfeld's.
Forty minutes later another helicopter landed with Madonna in it; Jerry Seinfeld was there to meet her. Four hours later a SUV left the mansion heading to the airport.
Rodriguez's and Seinfeld's press offices refused to give any comments, while Madonna's representatives said that they knew nothing about the meeting in Hempton.
Photos of Madonna and Alex Rodriguez: nypost.com, foxnews.com.