Newlyweds Channing Tatum and Jenna Dewan have realized their long-time dream to be inked to be linked. "We always wanted to get a tattoo of something together," says Tatum. An untimely food poisoning terminating their honeymoon in Bali, the actor and his wife nevertheless returned with their wishes perpetuated on their feet as matching tattoos.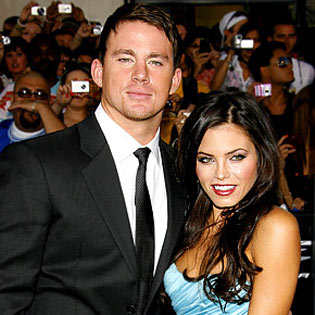 "It was a joint decision," Tatum related to PEOPLE, explaining the meaning of the act. "We weren't going to do each other's names. We wanted to do something symbolic." What they eventually went for was a phrase in Balinese that translates "side by side". In Los Angeles, at the screening of G.I. Joe: The Rise of Cobra, Jenna took pride in a public display of her tattoo.
Now the couple who first met in 2006 at the filming of Step Up are wearing their vows that they mean to keep.
Source of the image: usmagazine.com.