An engagement can bring about a lot of new things, and LeAnn Rimes joined the ranks of those who renewed their boobs for the occasion!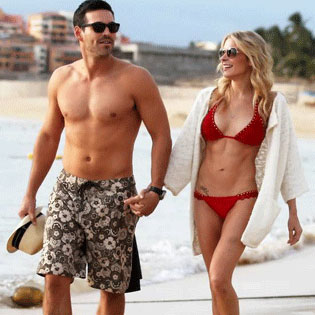 On Thursday, strutting about in Cabo San Lucas, Mexico, where she and her husband-to-be Eddie Cibrian went vacationing, the singer, clad in a scanty bikini, displayed a more buxom figure than usual.
As UsMagazine heard from an inside source, the 28-year-old country music prodigy finally made up her mind to have a boob job done.
LeAnn Rimes have always thought about doing something to her breasts, which, being A-cup size, in her opinion were too small for her body. "She often talked about wanting to get implants," the source said.
It was also one of her points when Rimes was fighting with Brandi Glanville, Cibrian's ex-wife. When Rimes used to tell her she was plastic, Glanville answered back that, with Eddie liking big breasts, her rival would certainly end up getting plastic herself. It seems that that's what happened!
Moreover, the plastic surgeon the singer went to for the boob job was the one who did the job on Glanville, and now the former rivals boast the same cup size.
Now the happy Rimes is enjoying her stay in Cabo. "Sun, bikinis, friends, food, tequila…celebration!!!!" runs her Twitter message.
Source of the image: Newmoviereleasesdvd.