The pictures which disappoint Kate Moss have been quite difficult for the paparazzi to get. Kate demonstrated her cellulite in Paris, on March 8, at the Louis Vuitton show.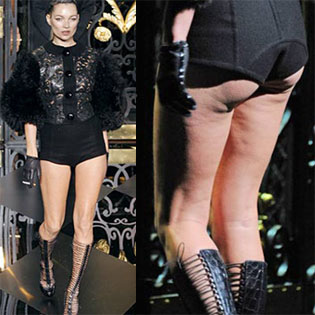 Indeed, models are constantly in front of the camera-eye, and any imperfection can be communicated to the rest of the world within an eyewink. Kate Moss has also been "trapped" demonstrating a dress with short shorts from the Fall-2011 collection by Louis Vuitton. From the front the cellulite was not visible, but having turned around, Kate displayed the so much hated "orange peel".
Several editions have already written revelatory articles recollecting Kate's other imperfections. Needless to say that the fashion world is cruel. Still, our editorial staff think that Kate has a right to be as she is. Just as we all have the right to walk with cellulite, if we have it. There is nothing wrong in it! Of course, we struggle against it, but we do not want to fight for a lifetime!
Source of the image: Stylelist.