Fashion designer Karl Lagerfeld said he would have preferred to see Penelope Cruz starring in a "Coco Before Chanel" movie rather than Audrey Tautou. The famous couturier's slam on the sweetie French actress followed her interview where she had said to wear Chanel rubber boots.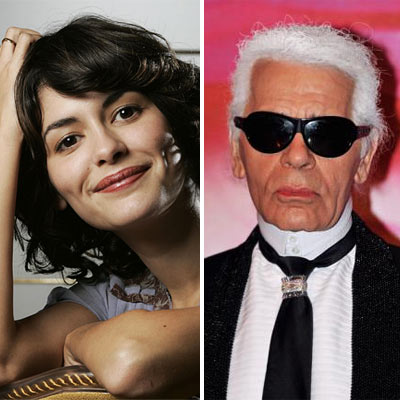 Lagerfeld response was rather furious. "I have never been aware that we manufacture rubber boots. Ever since I do not feel I am supposed to be nice. If it had been up to me, I would have proposed Penelope Cruz to star in the movie instead," he commented.
Along with playing the part of Coco Chanel in Coco Before Chanel (2009) Audrey Tautou also represents legendary Chanel Number 5 fragrance. The French movie star has not yet commented on Lagerfeld's words.
By the way, rumors are that the couturier's fury over Tautou may in fact be explained by his dismissal from entire movie-making process as long as "Coco Before Chanel" producers only entrusted the designer to create costumes.
A few months earlier all of a sudden Karl Lagerfeld let his steam off on supermodel Heidi Klum who has never been connected to Chanel Fashion House. Might this be a subtle judgment of the experienced designer or is Lagerfeld old enough for grumbling?
Source of the images: bestweekever.tv, fadedyouthblog.com.