While some girls do keep their wedding appointments, others are too busy – like Karina Smirnoff who will have to put off her nuptials.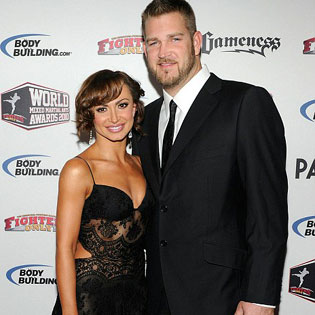 Her wedding to baseball player Brad Penny previously set on January 21 will take place days – or even weeks – later because of another man, and his name is J.R. Martinez.
After '80s-night competition on Monday Martinez has firmly fixed himself on the top rung of the leader board, and Smirnoff gushes to laud her Dancing with the Stars partner to the skies. In the wake of the Monday show the dancing pro, 33, is set as never before upon grabbing the mirror ball trophy. She said she and Martinez are rarely out of the studio. "And we truly enjoy putting together these great routines," added the dancer.
Therefore Penny, 33, who is out of the season with the Detroit Tigers, will get himself a wife later than he had thought while the dancing trainings are on! According to Smirnoff, there is no time for preparing for the ceremony properly, and she wouldn't like to jumble together two important events in her life. She intends to enjoy them one by one.
So, the latest news about the marriage is not to be before Dancing is over. Only after that Smirnoff is going to plan out other events – maybe also with Martinez, 28, involved. He has already applied for the role of a bridesmaid!
Source of the image: Dailymail.