Helio Castroneves, 34, one of very few drivers to have won three Indianapolis 500 (last time in this year!), is also known for winning season four of Dancing with the Stars with partner Julianne Hough. In about three months he is going to be known as father.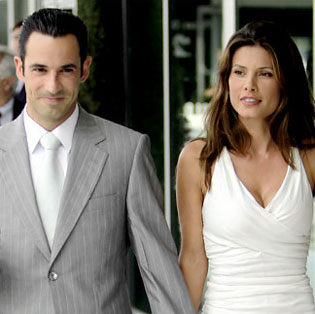 The Brazilian racer gave out that his girlfriend Adriana Henao is going to give birth to a girl some time in January. It will be their first child.
First the couple wanted to name the girl Indy after the IndyCar series, but gave up on the idea later deciding that it was going a little too far. For the time being they opted for the name Mikaella.
Castroneves said that as the "natural next step" he is going to marry Henao, although it's early days to make definite plans.
The seven months of the proceedings of his tax evasion case over in April, it hasn't been an easy year for him. "This year started very difficult," Castroneves commented. "The middle was kind of a 'Wow!' and now this. This is a great ending for the book."
Source of the image: nydailynews.com.