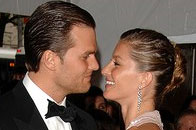 According to some rumors, finally, Tom Brady has proposed to Gisele Bündchen! He surely took his time to get ready for this move; the rumors about their coming wedding had started last autumn after Tom was spotted at Cartier store eying a ring with a beautiful yellow diamond valued at $145,000. Guess, who's wearing it now.
So, he finally had the courage to get Gisele, his and her parents into a private jet, while making sure that it's filled with tons of white roses and champagne, and proposed to her right there in the sky somewhere between New Jersey and Boston.
However, Brady's father, Tom Brady Sr. claims, he knows nothing about the engagement. At the same time, the couple was seen walking down Bean Town's Beacon Street, and Gisele was without the engagement ring. Gisele Bündchen's representative doesn't comment on the gossip, according to People.
Tom Brady and Gisele Bündchen met about two years ago. His previous relationship, which lasted quite a while, was with the actress Bridget Moynahan. Moreover, right after Tom left Bridget for Gisele it was discovered that Moynahan was in her third month of pregnancy. However, that news did not make the New England Patriots quarterback change his mind. Bridget gave birth to their son, John Edward Thomas Moynahan, in August, 2007. Brady's new girlfriend eagerly spends time with John Edward.
Well, after one got to know Tom and Gisele's story, one may think, isn't it logical to marry? At least, we can expect this. Gisele Bündchen is considered the most highly paid and influential model in the world. She is beautiful, smart, kind – a dream wife.
Photo of Gisele Bündchen and Tom Brady: courant.com.