After all they went through; Demi Moore and Ashton Kutcher are not at each others throats. When an occasion calls – like a mutual friends birthday party – they feel comfortable around each other. This time it was the 40th anniversary of Yehuda Berg, their Kabbalah instructor, on Thursday. Meeting at the Intercontinental Hotel in Century City, L.A., they were amiable with each other throughout the event.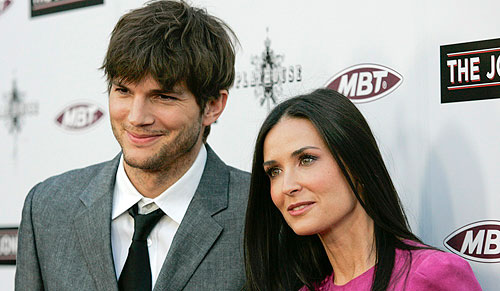 A source attending the party told PEOPLE that Kutcher, 34, and Moore, 49, arrived at the party separately, but weren't avoiding one another. They smiled when they came together and at one point Ashton fetched Moore some coffee in a paper cup. "They seemed to get along," was the onlooker's impression.
Nevertheless, it seems to be the hottest interaction they are capable of now. Another source insists that there's not the slightest chance of a reunion.
"Ashton will always be a part of their lives, especially with regard to the girls," says the source, but nothing like the old relationship is to be expected. There are too many things in the past, and their current lives are evolving drawing them apart.
The source also said that Ashton intends to go on supporting Moore (who has just undergone treatment).