Those who saw Cameron Diaz in Atlanta on Tuesday were sure to have believed she was in the family way. Diaz will be 39 next week, she looked stunning in shorts and sneakers, but her belly told a tale of its own. Has she really gone the way of Jennifer Garner?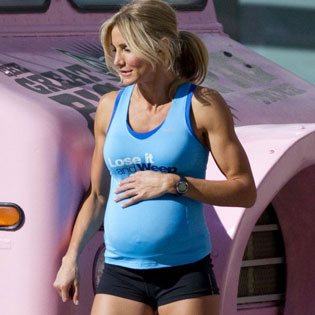 The truth is Diaz and her beau Alex Rodriguez aren't going to become parents yet. It was just a pregnancy suit that the actress was trying on for her new flick What To Expect When You're Expecting where she is playing alongside Jennifer Lopez.
Meanwhile she has a family in Rodriguez's two girls, Natasha and Ella. Is she thinking of bearing a child of her own?
Not yet, though the movie star says that anything can happen, from "adopting half a dozen kids" to "being the next octo-mom" – wait and see!
Source of the image: Roccosrevolution.