Brad Pitt doesn't get around without a cane these days! Even to walk the red carpet – when he turned up Saturday at the award gala of the 23rd annual Palm Springs Film Festival – he needed a cane to steady himself. What's gone wrong?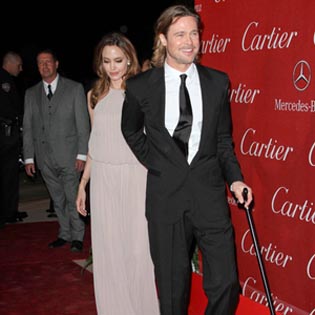 The reason, the actor explained to reporters, is an injured ligament in the knee. It is known as the ACL connecting the femur to the tibia.
The accident? Pitt was walking downhill with his daughter Vivienne, 3 and a half, in his arms when he missed his footing. As he tried to keep Vivienne from falling he struck his knee.
The injury doesn't require any surgical treatment, but he will be needing a cane for some time to avoid too much strain on the ACL.
The daughter wasn't hurt in the fall, Angelina Jolie shared with reporters at the same event Saturday. As for her 48-year-old husband, she likes him with the cane. Moreover, she doesn't feel as if the injury has impaired him any. "He's not that kind of guy," said Jolie. "He does everything still."