It was hard to notice Rihanna in the first trailer of the film "Battleship", but in the second one this gap had been compensated for, and the fans and enviers could evaluate how good the singer was in a new role of an actress.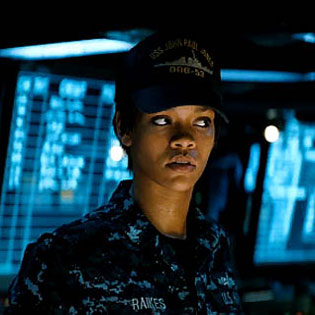 RiRi got the role of officer Raikes in the international naval flotilla fighting against extraterrestrial invaders. Those cunning and ruthless enemies were hidden in the depths of the ocean, therefore the alien invasion was not seen at once. Then they intended to conquer the inhabitants of the Earth and systematically destroyed the whole cities.
Rihanna, of course, does not fight the villains by herself: the beginning actress is accompanied by Alexander Skarsgard, Taylor Kitsch, Brooklyn Decker and Liam Neeson. By the way, the relationship between the latter three characters is another engine of the plot: Kitsch's character falls in love with the daughter (Decker) of the Commander (Neeson), who is against it, of course. However, the admiral will be to busy to obstruct the feeling of the young lovers, as soon as the bloody sea battle begins.
The creators promise a spectacle worthy of "Transformers", so if you or your man are the fans of this genre, do not miss the movie directed by Peter Berg next summer.