Ashton Kutcher isn't too eager to discuss his relationship with his estranged wife Demi Moore, all the more so since she developed a health crisis in January – but it has become known to PEOPLE from a source that he came over to see her.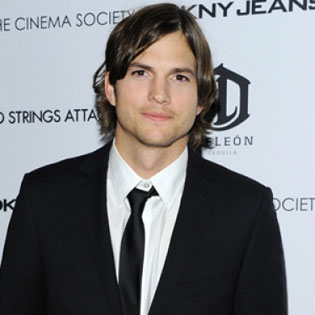 Although Kutcher paid her a visit after Moore returned from the hospital, it mustn't be construed that they will reunite, the source hastened to add. According to the story, he went over because "it was important to her daughters," the actress's three girls from her previous marriage to Bruce Willis. The 23-year-old Rumer is said to maintain a close bond with the Two and a Half Men star even after he and her mother had separated.
Meanwhile Kutcher, 34, is getting on with his life. On Thursday, when Moore was reported to have finished her treatment, her estranged hubby was out assisting Two and a Half Men creator Chuck Lorre.
Observed at the Television Academy's 21st Annual Hall of Fame Ceremony sponsored by Grey Goose, in the ballroom of the Beverly Hills Hotel, Kutcher meant to be unobtrusive giving a wide berth to the press area.
Seated at a front-row table, Kutcher was helping himself to breadsticks and having fun with the evening host and his costar Jon Cryer, giving a thumbs-up to both.