The 42-year-old Jennifer Lopez shows her iron abs sprinkled with drops of rain at a concert in Brazil, but the 19-year-old Selena Gomez can not boast of the same thing. If you want to have a belly like Jennifer's, but the reality is close to the version of Justin Bieber's girlfriend, here are some exercises that are sure to help.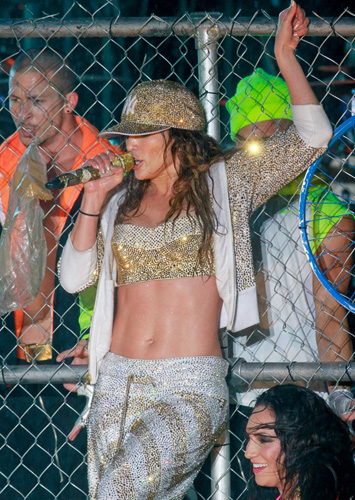 Why Do Women Have Belly Fat?
An "airbag" in the abdomen is a feature of female body structure. Of course, there are lucky women who got a perfect flat belly from nature (most important thing is that everything else should not be as flat), but to be honest – these are not many. J. Lo, which we have referred to as an example is clearly of no fragile constitution. She earned the relief muscles by her own labor. What's stopping you?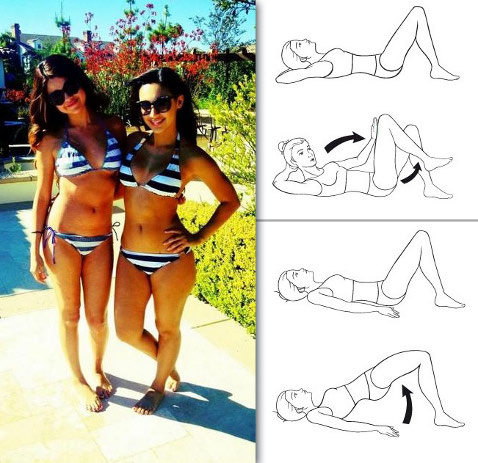 Diet Changes for Getting Rid of Belly Fat
If you want to get rid of extra inches in the waist, start with a review of nutrition. It is not necessary to diet; it will only make the body stock for a rainy day. It is better to eat little but more often, and not to get involved in low-fat foods. Usually to get rid of hunger you need to eat a lot more of those. Visits to the kitchen should be stopped two hours before bedtime, but if you really want to eat in the evening, drink a cup of yogurt, eat a carrot or a thin slice of lean cooked meat. Though at such moments one does not feel like eating carrots, try one and make sure the feeling of hunger is blunted.
There is even a special diet for a flat belly. The main rule is a complete rejection of fruits and berries before bed. Otherwise, you will run the fermentation process, and bloating in the morning is guaranteed.
Exercise, too, has not been canceled. It is not a must to run to the fitness club (although it is a useful thing). We like the exercise offered by Vichy experts. According to these, it is enough to exercise three times a week for at least five minutes and complement your daily body care with the Destock Ventre slimming care with caffeine and plant peptides. The fitness guide is printed on the reverse side of the product package.
Belly Exercises from Vichy
Start with twists from the prone position. Lie on the floor, bend your knees and in turns bring your right hand to your left knee and your left hand to right knee. With each movement one hand must be behind your head.
Stay in the same position and lift your pelvis as high as possible without taking your hands off the floor. Repeat 20-30 times.
Then repeat the first exercise, but now bring your elbow to your knee (20-30 times).
Get on all fours. The body is parallel to the floor, thighs are perpendicular. At the same time straighten the left arm and the right leg, and then the right arm and the left leg (20-30 times).
Now get up. Keep your back straight, arms along the body. Raise your right leg bending the knee. Repeat 10-15 times. Then repeat the same thing with the left leg.
Again, raise your legs, but this time reach out to the buttocks with your heel.
Again kneel resting your hands on the floor. Bend the body down first, throwing your head slightly back, then upwards, lowering your head.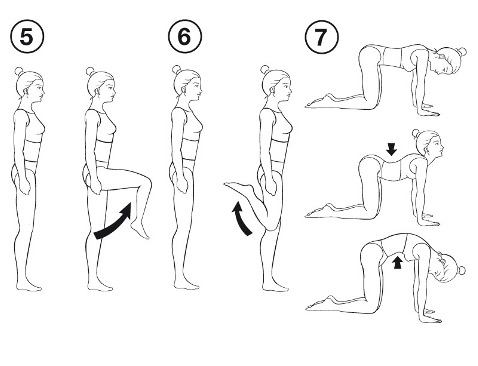 Vichy promises that such a regime of exercises combined with the gel will help reduce your waist by one size in only a month. If you refuse to exercise and will only use the gel, you will have to wait twice as long.