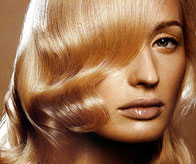 Beautiful hair is certainly a great nature's gift. Unfortunately, there are lots of things that could make them unhealthy. How can we give dry and damaged hair back its strength and lustre? Balanced diet and care will sure help you get healthy and magnificent mane. Here are some simple but useful tips for the healthy hair.
Beautiful Hair Diet
Include plenty of fatty acids into your diet. They are provided by tuna, salmon, cereals, nuts, olives and vegetable oil.
To fight off greasy hair, cut down on fatty and spicy foods. Doing so, you restore the balance of sebum secretion.
Your hair will respond well to vitamins A and B which can be found in brown rice and various nutritional supplements.
Remember that beneficial substances are absorbed better if taken before a meal.
Hair Conditioning and Care
Make sure to massage your hair with oil at least once a week. This increases the blood flow to the follicle strengthening them and so enabling hair growth. Castor, burdock, and jojoba oils are perfectly suitable. Get your hair trimmed regularly to stop split ends and avoid overusing hairdryers.