If you are a fan of this cute 17-year old Canadian singer, then you will surely be excited about the new products for oral hygiene from… Justin Bieber. The new collection features not only toothbrushes, but also dental flosses and even tongue scrapers!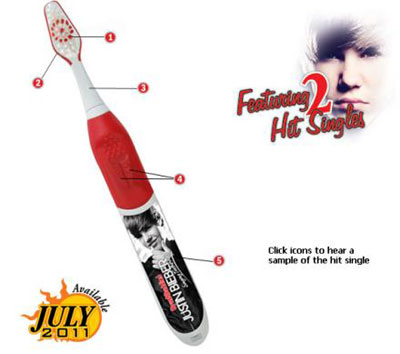 Yet, the most exciting feature of those products is not Justin's photo or autograph, but rather the fact that the toothbrush can "sing" you a couple of Bieber's tracks while you are brushing your teeth. Those toothbrushes have small built-in speakers!
Initially, the new line of oral hygiene products was presumed to be developed for young consumers, however the line also has toothbrushes for adults as well as for kids and teens. The products will be available for purchase through Justin's official website in July 2011.
This line of oral hygiene products makes one wonder if manufacturers have some other similar ideas, such as singing bath sponges, which would "sing" in duet with those of us who love to sing in the shower. It would also be nice to have a mascara or a hair brush to sing for us or tell jokes to help us get our mornings off to a good start.
Source of the image: Ilyjustinbieber.