Those who desire to procure a handset that would be both remarkable and sophisticated will be considering first of all some luxury affair from top designers made up all over in diamonds. While there's no denying that diamond-sparkling cell phones meet the case perfectly, there is still something a little bit more colorful in store.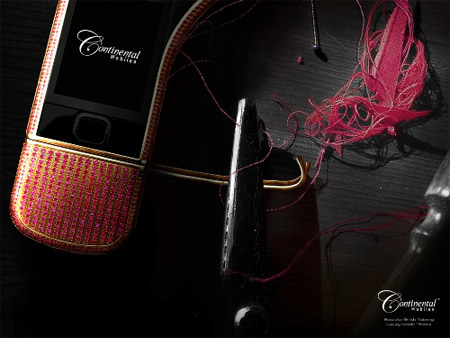 Continental Mobiles has thought of rubies as a more unique and impressive embellishment to the Nokia 8800 Arte. The new yellow gold and ruby-encrusted cell phone is named the Cosmopolitan, and if it doesn't succeed in making a woman appear more elegant and trendy, it's difficult to say what does.
The Cosmopolitan is a British concept, hand-tailored, and thoroughly up-to-date technologically as all Continental Mobile products are. You may rest assured that you are acquiring one of the best items on the market, featuring all the latest tricks like turning the handset face down to mute the incoming calls or the light sensor that provides a comfortable display brightness. Ruby Nokia 8800 Arte costs GBP 6,000 (about $9160) and can be ordered exclusively from Continental Mobile.
Source of the images: ladiesgadgets.com.