Women who are always rushing to parties – or are very much out in public – or have an endless string of important appointments – and in any case want to look their best hell or high heat, know that besides a trendy outfit and blinges they have to think of finer things as well. Like those fine facial hairs that can escape waxing removal or tweezers and mar the perfect smoothness of your face.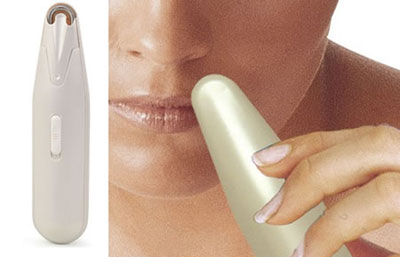 The Fine Facial Hair Remover can become your faithful assistant in the glorious labor of ever looking on top of the world. The gadget is ready to deal with every unwanted hair, no matter how fine or unreachable. The rotating coil scythes even the shortest of hairs so close to the skin that even ingrown hairs have no survival chance. After you have made use of Fine Facial Hair Remover you can rely on unblemished smoothness for a month at the very least. The coil is hypoallergenic that means your skin won't overreact to the treatment.
Your face's best friend retails at $39.95, two AAA batteries included.
Source of the image: Gizmodiva.