Looking for a piece of clothing which is a perfect fit can be a pretty harrowing occupation as you pop into and out of the changing room like a rabbit out of the hole, and when in, rack the brain to decide whether what is on you now actually suits you. On the one hand it can be thrilling but on the other it can be a very sweaty business too. That's why some of the best brains are tackling the problem of assisting in the difficult process of making right choices.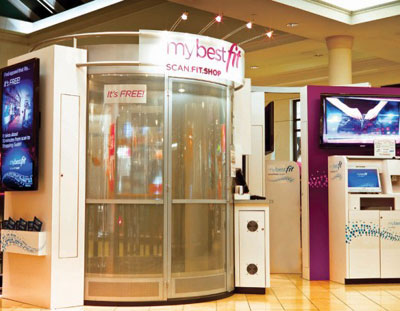 The latest one in this field is a gadget dubbed mybestfit (the very name to dispel any doubts). It's a sort of a booth with a full-body scanner that doesn't use a laser in case you're worried about it affecting your health; the trick is done with a 'vertical wand' array of nearly 200 antennas that work on radio waves. It takes them maximum 20 seconds to create a 3D model of your body drawing on a database of over 200,000 points. The information from the model goes to fashion a "mybestfit Shopping Guide" that provides guidelines for the appropriate sizes for a number of popular brands like the Gap, Levi's, or Eddie Bauer. This way you are supposed to be directed straight to the items that are your size leaving for you only the question of the style.
The company's website mentions only one mybestfit booth installed in Pennsylvania, so we'll be hearing more from over yonder about how much it really helps.
Source of the image: Ecouterre.