The September issue of the American Vogue will be released with Lady Gaga on the cover. September is a special month for Vogue, and for all the glossy magazines in general. Just think of the film September Issue, which became a cult. And this year the anniversary of the magazine adds to the bright traditions of the September issue.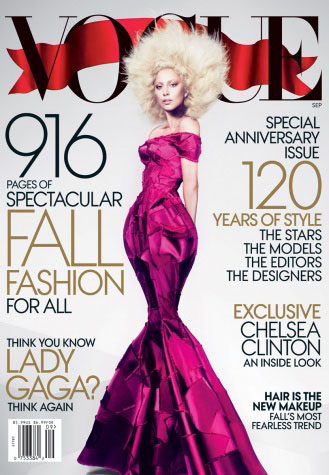 Fashion critics are already discussing Lady Gaga's new hairstyle (demonstrated on the cover), as well as the luxurious fuchsia-colored dress from Marc Jacobs. And designers are surprised by the simplicity of the anniversary cover – a completely monochrome gray background and Lady Gaga's silhouette.
It is symbolical that Vogue is celebrating the 120-year anniversary in September. Readers can expect the record of 916 pages and Lady Gaga in person.
Vogue will help her to present her new fragrance – these days Gaga begins selling her first fragrance Fame. And the star will help Vogue to make a bright issue and increase sales again (sales records were noted in the issues with Gaga on the cover; she is also known as the Queen of Twitter – her micro-blog is followed by 28 million people worldwide). By the way, Vogue calls the new perfume from the celebrity the most innovative in the past two decades, apparently out of gratitude for the coming boom in the sales of the September issue.