As Christmas advances, a small family jeweler in England, Titchfield, Hampshire, has created a unique $130,000 Christmas tree ornament.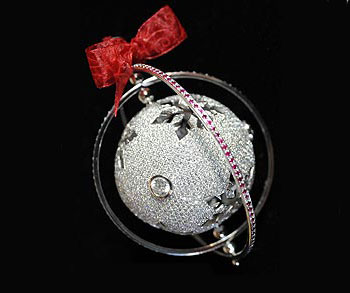 The Christmas ball has two 18 carat gold rings around it. It is composed of a rare blown glass and is decorated with 188 rubies and over five hundred tiny diamonds. Rumors are that it took over 130 hours of diligent jeweler's work to just set the gems in.
The ornament that will be put up for a special Christmas auction is now displayed at Hallmark Jewelers at Titchfield.
Source of the image: luxist.com.