Prime Minister Margaret Thatcher's handbag has arguably been the most famous object of those auctioned off recently for £25,000.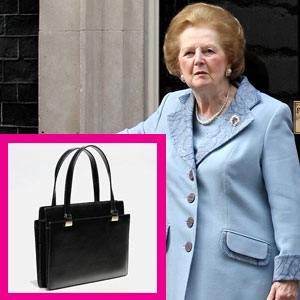 The bag, a black Asprey affair, is a historic object that can be seen in the pictures of the former Prime Minister with the then-US President Ronald Reagan taken during the famous summit meeting in the United States in 1985. It had been in Thatcher's possession for well over 30 years.
The charity auction at Christie's that was organized by Jeffrey Archer offered – apart from the renowned item – a number of donations from Sir Michael Parkinson, Eric Clapton, and Bernie Ecclestone.
The historic trophy had been expected to bring in a sum in the vicinity of £100,000, but it failed to live up to the expectations going to an undisclosed Cypriot for a quarter of the sum (hopefully Thatcher wasn't affronted at that).
Christie's spokesperson described the procedure as a "gala auction" with Jeffrey Archer selling 18 lots, most from the personal collection of Lord Archer, augmented by a sprinkling of donations from other illustrious sources.
The British Forces Foundation, Combat Stress, and Debra are benefiters from the latest Archer sale.
Source of the image: Styleite.