Eyeliner products are extremely important on the beauty market today. Red, quartz, bilateral… The more unexpected eyeliner you have, the better. Let us analyze what the most relevant trends offer, get inspired by unusual images from fashion shows, and have a look at the most interesting trends of the fall-winter season.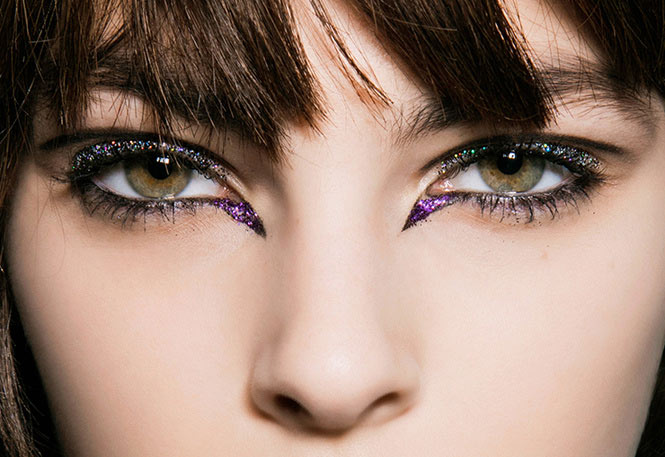 We have got accustomed to the fact that the color range of eyeliners is not limited to the classic black and brown. In the new season, the color choice is unlimited. The latest beauty standards are rapidly being discarded. From now on, "ungroomed" eyebrows, unusual styles, "wrong" color combinations in makeup – red shadows and liners in particular – are slowly but gradually becoming the new beauty reality.
Niche cosmetic brands are increasingly relying on extraordinary colors. Collections are not limited to two or three most popular colors. Instead, they include seemingly ambiguous lavender, neon blue and brick red colors.
In addition to unconditional color trends of the season, there is also an unprecedented fondness for eyeliners with glitter. The product may contain barely noticeable pearl spray or consist entirely of glitter.
Whatever the product contains, exotic moods are also true concerning standard colors. For example, if color experiments are left for later, you can start experimenting with the form!
A few words about the black and brown eyeliner
Autumn and winter seasons are traditionally rich on long-awaited and interesting limited Christmas collections. From season to season, brands continue to produce models in standard colors. As a rule, they are time-tested and much-beloved.
Black and brown eyeliners do not become out-of-date and will never disappear. They are always present in beauty bags even if the woman finds them suitable only for the New Year night.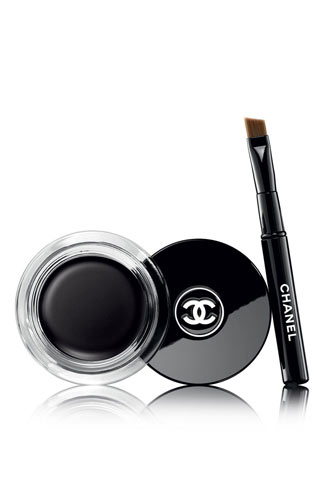 When used skillfully, the eyeliner of some base color not only makes the look more expressive but helps to correct the fine details of eye structure. For example, when the eyes are set far away or close together or when you want them to seem wider or narrower when you want to have a "cat's eye" or some other effect. There is always a chance of using the eyeliner; the problem, however, occurs only if you have an impending eyelid.
Makeup artists of fashion shows continue to experiment with color or form. Graphic lines really leave much space for imagination. There are a lot of variations, which have manifested themselves in beauty images of the 2016-17 Fashion Weeks.
Less practical, but rather bold: white, blue and dark green eyeliners
Slowly but steadily, these eyeliner colors are becoming an unofficial supplement to the classic base options. The most significant point is that even conservative women are increasingly choosing blue and dark green eyeliners that used to be bold and dashing not so long ago.
Of course, it is not necessary to buy absolutely everything and in different formats. You can start climbing the beauty Olympus with the eyeliner that is more suitable for your eye color. Hazel and green eyes will look perfect with the dark blue eyeliner; bright eyes will be emphasized to advantage with a golden and olive liner, whereas blue eyes will look great with emerald eyeliners and gray eyes will definitely seem attractive in the burgundy shade.
White eyeliner is an absolute must-have today. It is truly multifunctional and can be applied on the lower eyelid along the mucosa (to make the eyes visually bigger) or in the inner corner of the eye (for the "wide-open eye" effect). Even after shading, white pencil eyeliner looks fine. In addition, it steals attention away from the obvious consequences of lack of sleep, making the look fresher and more radiant.
Compliment to the color: non-standard and shiny
The absolute favorites of the autumn-winter season are the liners with pearl spray, the ones with glitter and unusual color variations.
The eyeliners of usual colors, such as black, brown or olive with the addition of shimmering particles are an absolute "wow" product. The degree of glittering does not matter: glitter can be very fine, making the look irresistible.
As for unusual colors for this season, designers and top makeup artists recommend to go beyond limits and conventional interpretations. Beauty giants produce unprecedented amounts of shiny and matte eyeliners in a variety of colors, ranging from blue, pink or red to shimmering festive variations of silver and gold.
However, it is blue eyeliner that surprisingly enjoys unprecedented popularity in the current season. This unusual version is not easy to use: it is suitable only for some style in clothing, and the whole look with the eyeliner should be created in advance: for example, the coat in the style of the 1920s will not look elegant with the blue neon eyeliner of the 1970s.
Of course, the shape is very important. Even everyday makeup in such an extraordinary color can look harmonious if you make very fine lines, fail to draw the long tip or emphasize the lower lid, or vice versa, if you moderately emphasize only the lower eyelid. It will also be an excellent choice for the Christmas season of numerous corporate parties, public appearances and family gatherings or meetings with friends.