The winter season is well and truly here and for women's fashion this can only mean one thing: knitwear is back and this season it is bigger than ever. That's right, chunky knit is in this season and this means warmer clothing and knitwear has moved into chunky dresses. The knitwear chunky dress is one of the big trends this season and it is not difficult to see why – the chunky dress is perfect for all occasions, a day in the office, a girly lunch or even going out for an evening meal.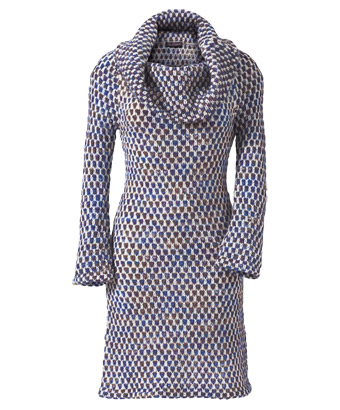 Often with these trends there is no real difference between the items, one top or skirt can look pretty much the same. But with chunky knitwear dresses there are real differences between the different styles: for example the shawl collar dress, the cosy knitwear dress with a crew neck collar and pockets and the cowl neck longer knitwear dress. The shawl collar is the perfect dress for those who want the warmth of a large collar but without the constraints some people feel collars cause. With these buttoned down collars the warmth is there as well as the freedom of movement.
The cowl necked dresses are perfect for those who want to keep the cold weather away as well as looking stylish. This dress comes in different lengths, the shorter being perfect to team up with leggings and boots to create the perfect look for this season. The longer of these cowl necked knitwear dresses works well with tights and boots or even heeled shoes to keep you warm this winter season.
Of course winter wouldn't be winter without the tradition of the knitted scarf; wrap around to create a number of different looks to help you keep warm and stylish while out and about in the cold winter moments. Let's not forget the wonderful knitted gloves either – these come in a variety of styles and colours to tie in with any outfit.