Will Robert Pattinson set about designing a clothing line of his own in earnest? At least his Twilight saga co-star Kellan Lutz, who followed the footsteps of Justin Timberlake (William Rast creator) and Diddy (Sean John creator), sowed the seeds of the idea in his mind.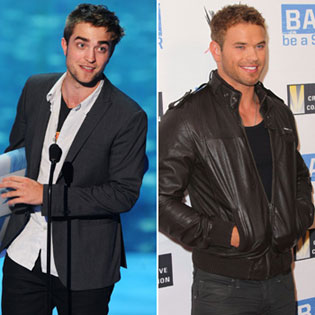 Lutz is knocking together his line to be unveiled in the fall, and he shared with Us Weekly that the project kept him busy throughout the summer seeing about all the details for the collection known as Abbot+Main. "I'm very involved in the clothing line," says the 26-year-old actor, "everything gets run through me." As soon as his male line gets done, he intends to start a women's one for the spring.
And when he came across Pattinson, the blonde beau fell to talking about designing clothes, and Lutz got a distinct impression that the vampire hero was fired up by the idea. Telling about it to Us last week at the WWE SummerSlam Be a Star Event in L.A., he said that Pattinson, being a "hipster," was likely to get into the business too. They even thought up a name for the line – "Rags by Rob," somewhat reflecting Pattinson's "couldn't-care-less" style of inveterate flannel shirts, jeans somewhat worse for wear and lackluster V-necked T-shirts.
Lutz, who stands 6 foot 1 and looks stunning, has already done a bit of modeling for Calvin Klein, shooting for the company's 2010 X underwear collection, and realized that he wanted more than doing ads for others' brands. Now he says he is keen on turning out projects with his name on them.
Source of the image: Socialitelife.