As a special gift for St. Valentine's Day, Vera Wang will release a collection of wedding gowns for the David's Bridal brand in February 2012.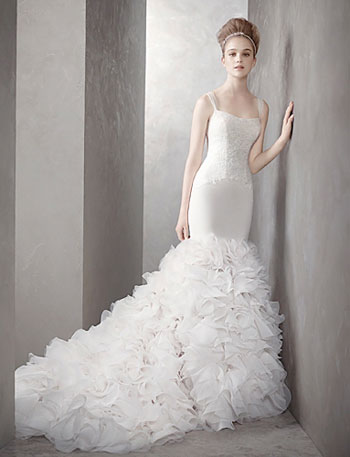 These models are pretty affordable in terms of price and by no means worse in terms of beauty than the wedding gowns from the designer's main line. For the past few seasons, they have already become a good tradition. The spring-summer 2012 White by Vera Wang collection will be even more successful – primarily due to the diversity of styles.
The new wedding collection by Vera Wang contains the models which are radically opposite in style. These are both lush and classic wedding gowns, resembling ballroom dresses for a fairy tale princess, and the tiny, short white gowns for the brides with a more daring opinion of wedding traditions. The best news for the designer's fans is extremely low prices: the prices for wedding shoes and accessories start at $88, the prices for bridesmaids' dresses are from $158, and luxurious wedding gowns will cost from $500 to $1500.