The risk of becoming a fashion victim is much higher among celebrities than among ordinary people. Real storms often rage in the heads of their stylists, and we can only observe the effects of these hurricanes.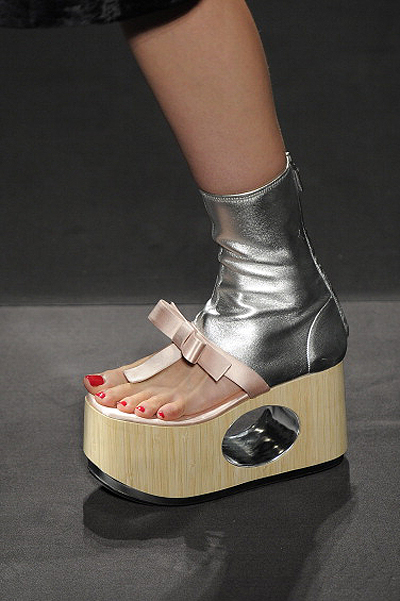 The most recent case happened at the world premiere of the movie "Twilight Saga. Dawn: Part 2," which took place in Los Angeles. It was the appearance of Elle Fanning in cothurnal sandals from the new Prada spring-summer collection. The impeccable acting reputation of a Hollywood's favorite can hardly be spoiled by these shoes, but the title of the unfortunate fashionista can be surely granted to Ellie.
However, this misunderstanding, which we can treat with a parent smile, can be attributed to the actress' young age. Meanwhile, we have decided to recall other ridiculous design inventions.
Meadham Kirchhoff, SS 2012
All the best things and at once: sequins, fluffy pompoms, ruffles and bright colors… we do not really need this kind of fashionable overeating!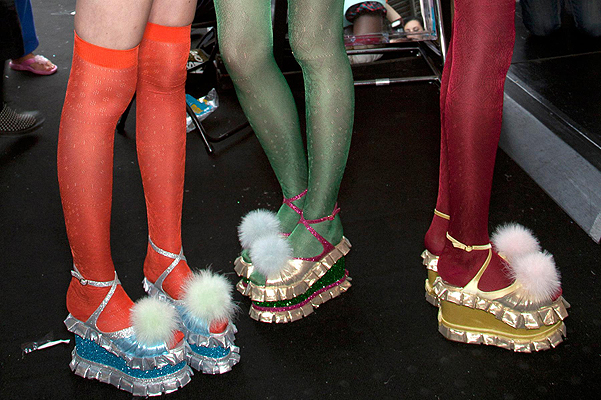 Celine, SS 2012
Neither fish nor fowl. Neither in winter nor in summer can this model of shoes by Phoebe Philo warm the hearts of fashionistas. Helmut Newton and Jim Henson are also unlikely to be happy.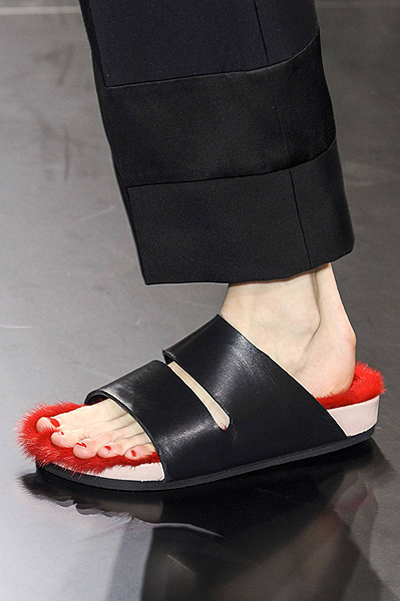 Jean Paul Gaultier, SS 2007
Jean Paul Gaultier celebrated his 30th anniversary of creative activity by recreating his invention of 1977. It is a perfect decision for those who like cocktail parties under water. However, we do not remember such people among the characters of our website.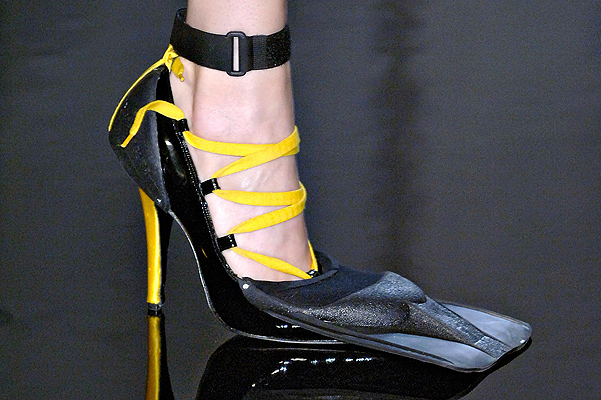 Iris Schieferstein, 2009
Here it is, the very embodiment of the girls' deadly nightmare, in its literal meaning. Wearing such shoes, they can be called "a hoofed creature."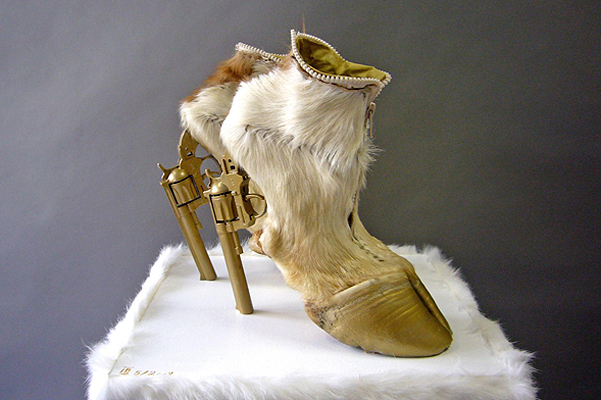 Louis Vuitton, SS 2010
Denim, sheep, Mongolian lamb, wood, metal and leather have once been brought together, apparently, to take an honorable place on our list of the 17 worst shoe design errors.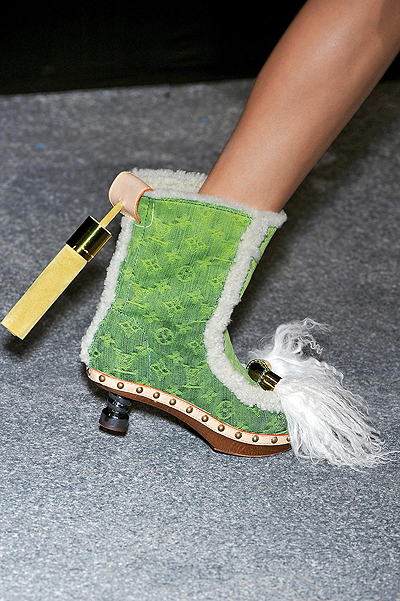 Nina Ricci, SS 2009
Olivier Theyskens' creation for Nina Ricci can be explained only by the universal obsession with platforms that the fashion world used to have at the time when the designer created these shoes. The artist tried to stay ahead of the wave, and there is hardly any other excuse for Olivier Theyskens.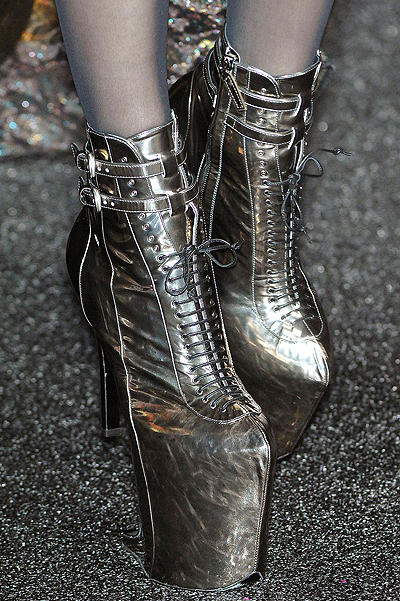 Rick Owens, SS 2009
A cape raincoat turns out to be not the most sinister invention of the mankind. Tent shoes are much worse.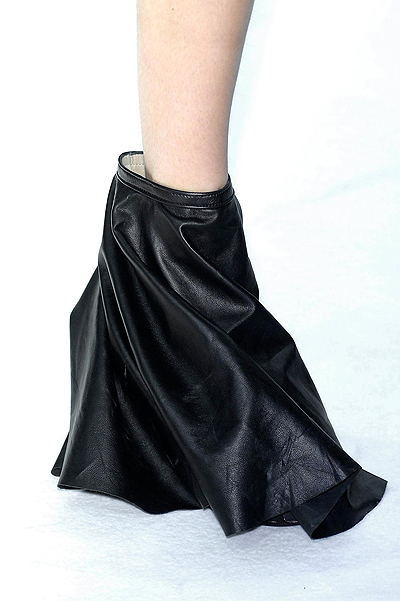 Marc Jacobs, FW 2012-2013
Marc Jacobs Fall-Winter 2012-2013 collection includes shining boots on the wide heel with rhinestone buckles, along with a giant fur hat. Still, they are hardly welcome when the customers are concerned.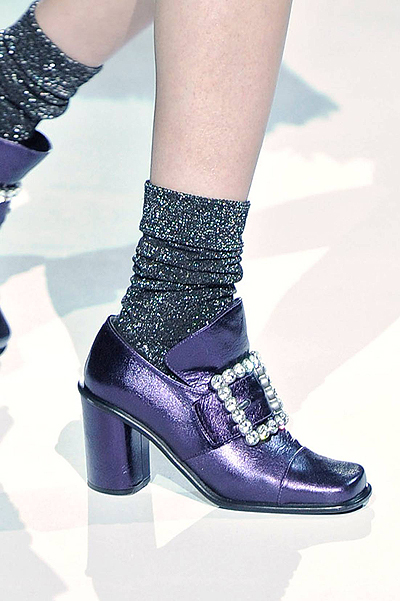 Celine, SS 2009
After the demonstration of the Celine collection by Croatian designer Ivana Omazik, which in particular included ambiguous sandals with colorful graffiti prints, the authorities of the fashion house announced the designer's dismissal. We dare say that Ivana's further career will be as complicated as the construction of these shoes.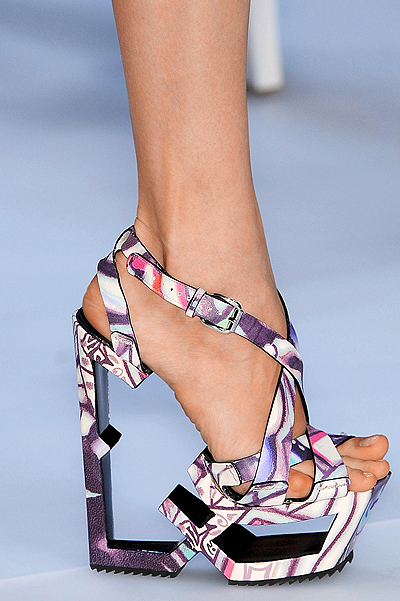 Converse, 2012
It is not a good idea to reinvent the wheel. Improving the wheel idea is even worse. Classic American sneakers are such a perfect thing that any attempt to improve them a priori is doomed to fail.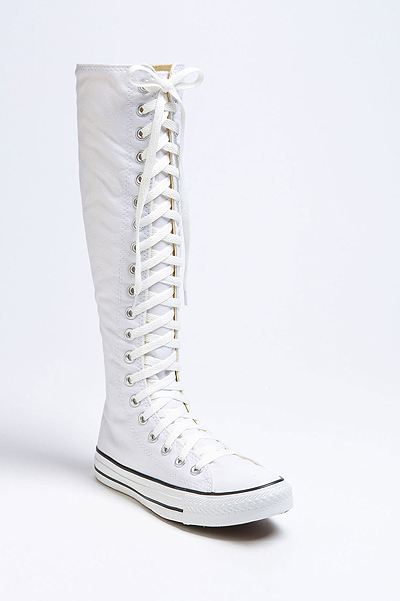 Chloe
Designer Giancarlo Zanatta recalled the first landing on the moon, which occurred in 1971, at the very moment when he was working on a shoe line for Chloe. The models that resembled his creation were successfully sold under the Pucci, Marc Jacobs, Chanel and Dior brands. However, no matter what logo the boots were decorated with, they did not become less similar to woven sacks in their appearance.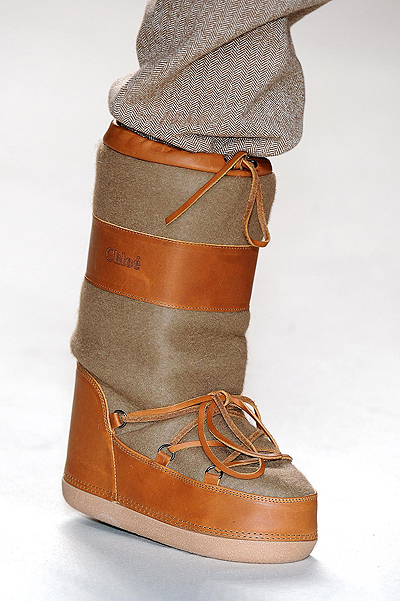 Kangoo Jumps, 1994
The health benefits of the so-called "rehabilitation footwear" are undeniable: joints, cardiovascular system and normal weight. But, alas, it is of no benefit for the eyes.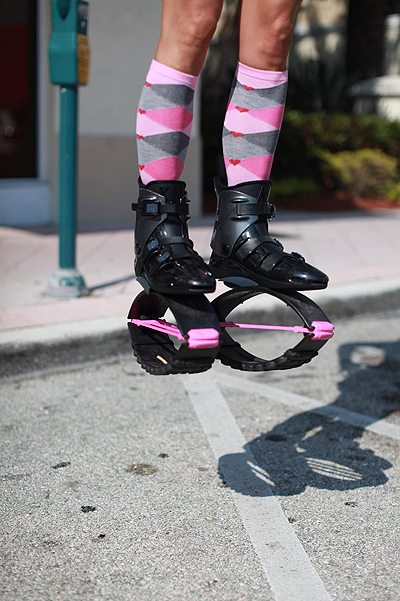 Alexander Wang, Simona Shoes, FW 2011-2012
Alexander Wang sandals made of patent leather and trimmed with fox fur will hardly preserve their luxury while walking to a taxi. This luxury will be totally destroyed on the way.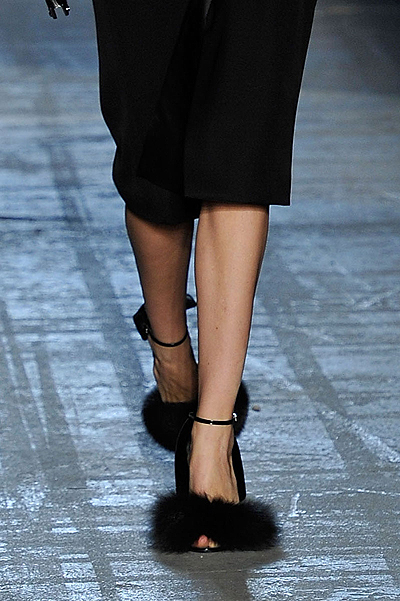 Crocs, 2002
Who were these cast slippers intended for? You might suspect they were created for surgeons, restaurant personnel or kindergartners? Hardly. Our verdict: they are good for no one.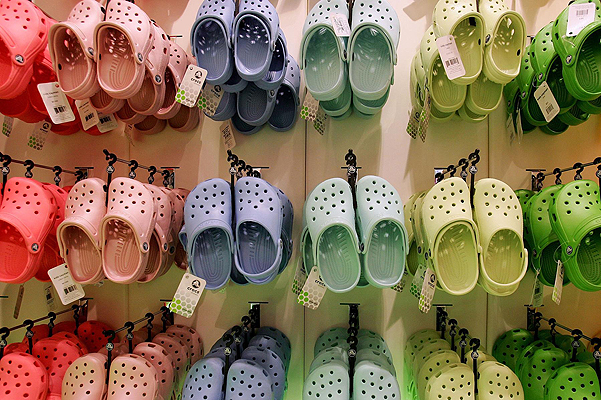 Maco Custodio, SS 2011
Inspired by a story from his childhood, "The Land Before Time", the Philippine shoe designer Maco Custodio created platform sandals made of black and cream leather. We did our best to understand what exactly the designer had wanted to convey, but we failed. It is unclear, whether it was the silver "bumper" on the toes that interfered, or a sharp claw on the heel.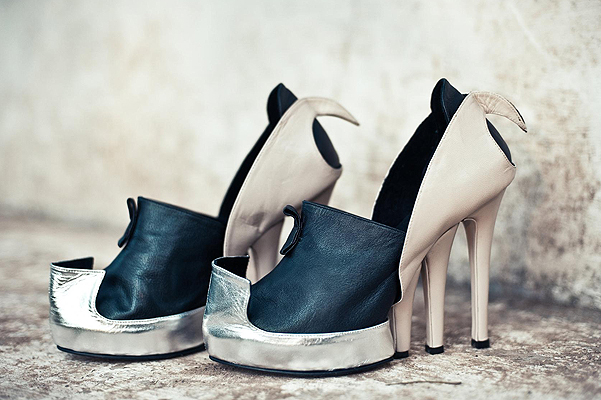 SnUggs, 2012
No comment.