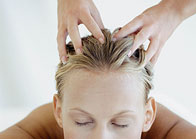 One of the leading stylists Ben Skervin developed step-by-step scalp massage for shiny hair. You can do this massage either on wet or dry hair, but it is more effective when you just washed and patted your hair dry with a towel because you have better scalp blood circulation after taking a shower.
Step 1
Wash your hands. You are going to use the tips of your fingers to massage the scalp. Put your palms over your head with your thumbs resting behind the ears and little fingers touching at the crown.
Step 2
Without changing the position, press your scalp with the fingers gently and start massaging the crown area with circular motions. As you proceed, make few deep breaths – it is a great way to relax.
Step 3
Now place your forefingers, middle fingers and ring fingers on the back of the head. Using the same circular motions move up to the crown and further down to the forehead. Repeat two-three times, each time trying to massage more area.
Step 4
Then, use motions as if rain was dropping on your head. Rap on the head gently with the tips of your fingers. This improves blood circulation, saturates the scalp skin with oxygen and speeds up the cell renewal process.
Step 5
In the end, run your palms along the hair line. Then, run your fingers from the forehead to the back of the head. This will take you about thirty seconds.
Note: Ben Skervin is one of the top stylists. He's been collaborating with Head&Shoulders since May, 2007. His works often appear on the covers of famous glossy magazines such as VOGUE, W, Allure, 10, i-D, Haper's Bazaar, Tatler, Glamour, ELLE.