Celebrities more and more often try on the image of the Hollywood divas of the 20s. Bob, soft waves, parting in middle and true glamour are from those times. If you are not ready to follow fashion and cut your long hair, we will tell you how to create a trendy look without haircut.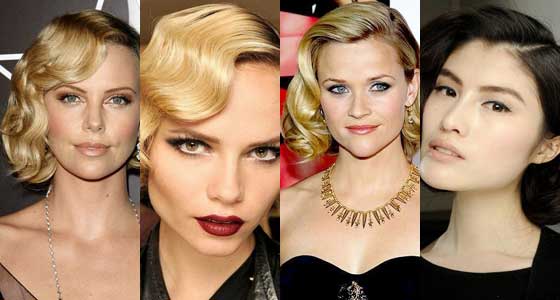 To make a fashionable hair style of the 20s, do as follows:
Dry your hair and part it on the side.
Using small diameter tongs curl all strands; use a styler with extra strong fixation. A powder or mousse with volume effect will be the best.
For the waves to last longer, fix them with clips or invisible hairpins, carefully smooth and sprinkle with hairspray.
When the hair is completely cool, remove pins and do the curls with fingers or a wide comb, achieving a loose effect.
Gather and secure your hair at the back of the head in a ponytail, and then simply fold it in half, tucked inside. Fix it with invisible pins at the base of the neck. Once again, sprinkle with hairspray.