Actress Alyssa Milano, 36, met her husband-to-be, David Bugliari, back in 2006, and she has been regarding this meeting as "a lovely gift" ever since.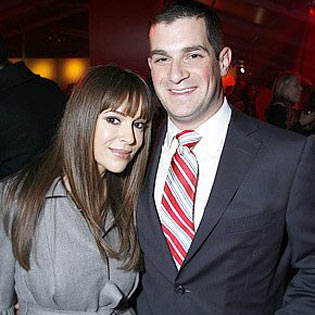 David, who works as an agent at the Creative Artists Agency, seems to share her opinion. Last December he proposed to Milano, giving her a ring that was made by Jim Lavi at Daniel Jewelry in La Jolla, California, according to David's own design.
As Alyssa Milano's rep told exclusively to People, last Saturday their relationship was consummated by a marriage that took place at David's family estate in New Jersey.
It was a very family-styled affair, exquisitely planned by Colin Cowie and performed on a lushly natural background. "We wanted a wedding that was reflective of who we are as a couple", Milano comments on the carefully created atmosphere of the event.
John Lennon sang his evergreen "Imagine" while David Bugliari and Alyssa were walking down the aisle all green and cream with a carpet of natural grass and rose petals.
The lovers' vows rang out under a wrought-iron gazebo in the surrounding of roses, calla lilies and willows.
The ceremony over, the guests, including the groom's friend actor Bradley Cooper, ensconced themselves on rattan furniture at hay bales that were made into cocktail tables.
There were wooden signs to mark the cocktail area and the dinner area that was done along the same farmhouse lines: old-fashioned tables in a tent put up on a wooden platform and lit by iron chandeliers.
Milano tried her best to recreate the true spirit of togetherness. "My Italian family still eats Sunday dinner together every week," she said. "We wanted to capture the same feeling with people passing around beautiful bowls of food and talking and laughing."
Her latest appearance was in NBC's comedy My Name Is Earl. The actress's oncoming ABC comedy is called Romantically Challenged.
Source of the image: inquisitr.com.