Anna Paquin, 27, and Stephen Moyer, 40, hardly ever object to filming sex scenes on True Blood, being a couple offscreen just like they are on.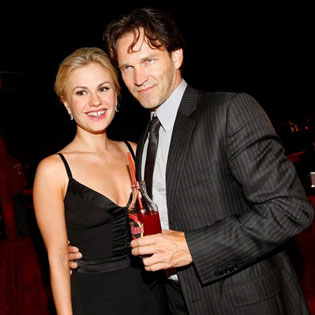 Entertainment Weekly brings us Moyer's easy assurance that they are never in the need of a fluffer for the scenes as long as he has his fiancée around. (Moyer plays Bill Compton, Sookie's lover on the Home Box Office third season starting June 13).
Neither has Paquin any qualms about shedding her clothes when the time comes for a bedroom scene. She has no reason to be shy, she says. "I'm really close with all of our cast, and we've all seen each other in various compromising and odd situations."
The new guy on the cast, Joe Manganiello, also knew what to expect when he stepped in to play werewolf Alcide, and gets naked without batting an eyelid. He gets his laugh calling it "the brotherhood of the sock." " When you're naked on the show, you have to wear a sock, and it's not on your foot," he explains.
Source of the image: Sookienovels.files.wordpress.com.