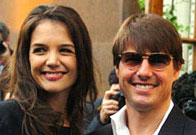 The celebrity couple Tom Cruise and Katie Holmes who have a daughter Suri are going to surprise their friends and family with gifts wrapped in expensive paper. The actors want to buy expensive wrapping paper for $60 a piece. Katie is going to wrap each present in this paper and then put $160 Jay Strongwater ornament on the top.
With all the presents they are planning to send, the couple will spend at least $6 000 on the paper alone. Last year, Katie created the design for the greeting card, sent on behalf of the whole family including Suri and Cruise's adopted children Bella and Connor. This year, Cruise-Holmes couple is going to impress family and friends again.
Photo of Tom Cruise and Katie Holmes: chinadaily.com.cn.