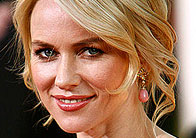 The actress Naomi Watts had her first baby boy, Alexander, in July 2007. Just 10 months after that happy event, Naomi got pregnant again. Last weekend, the actress became a mom for the second time. On December 13, 2008 Watts and her boyfriend Liev Schreiber welcomed their second son. The boy's name is Samuel.
Watts, 40, and Schreiber, 41, have been together since 2005. After her first baby, Naomi decided to sacrifice her career for motherhood. When Watts knew about her second pregnancy, she admitted that her break from acting career might be much longer than she expected.
Photo of Naomi Watts: people.com.