Madonna first met her current boyfriend Jesus Luz fairly soon after she stepped out of the relationship with her second husband film director Guy Ritchie. The young model caught her eye on a photo shoot. And when sparks flew no-one thought how wide would the fire spread.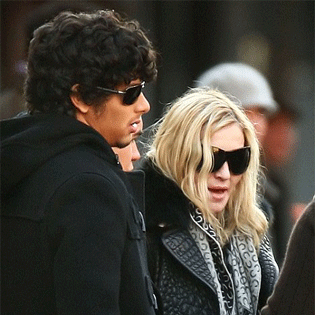 A London newspaper reports the opinion of a trusted source assuring of the famous singer and her boyfriend being united by a strong bond of love. "She does not hold all the power in the relationship. He wants to marry and be taken seriously."
And it does seem as if Madonna is doing just that, going to Brazil to meet Jesus' parents who are way younger than she is! It surely takes some pluck.
Did it take much bracing for the occasion on her part? Anyhow, on November 9 Madonna's private jet landed in Rio de Janeiro, and the singer headed for the home of Jesus' parents, Cristane Regina da Silva and Luis Heitor Pinto da Luz.
Expressed in dry figures, the situation stands like this: Madonna is 51, while Cristane Regina da Silva is 36 (having given birth to Jesus at 13). She works as a hairdresser, her husband in a local hospital.
The acquaintance may be further complicated by the fact that rumors are running hot of Madonna and Jesus' possible engagement.
Jesus' father already came up with a statement that the couple were going to show their mutual devotion by arranging a "commitment ceremony".
It's a somewhat ticklish question how far Madonna intends to get, for she is known to be averse to marrying for the third time! David Letterman heard her saying that she would prefer getting run over by a train to tying another nuptial knot. Well, time will show!
Source of the image: thehollywoodgossip.com.