A great love story of a modern Cinderella Catherine Middleton, whose wedding was watched by the entire world a month ago, might prove to be too modern. The popular English edition published the revelation that the former roommate of Catherine of Wales in a university dormitory had made concerning the beginning of this wonderful story.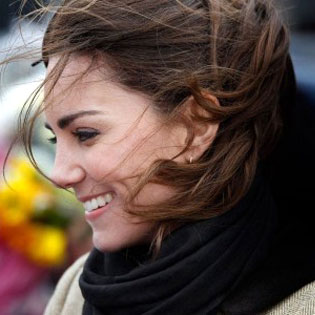 It was previously claimed that Prince William and Kate Middleton saw each other during a fashion show. That fashion show was organized for charity purposes. It was during this evening that Kate was wearing the famous transparent dress which made the British tabloids spend a lot of paper and ink. However, according to the latest news, the couple had already been flirting for several months, and in a rather strange manner. As reported by Laura Warshauer, Kate Middleton's roommate at the University of St. Andrews, Prince William paid his future wife a big sum so that she would serve him as a kind of a slave for the whole day.
The roommate, who had already become well-known due to Catherine's fame, said that back in November 2001, a joyful students company took a bus to the castle, where there was a theme party in the style of Harry Potter. The students had a peculiar entertainment in the form of a funny auction, where one could buy an unusual lot – a day in the company of a person who would satisfy all the whims of the so-called master. Prince William did not hesitate to give a considerable sum of 250 euros for Catherine. The question naturally arises how William and Kate spent the day. In all likelihood, it will remain a mystery.
Source of the image: Toplix.